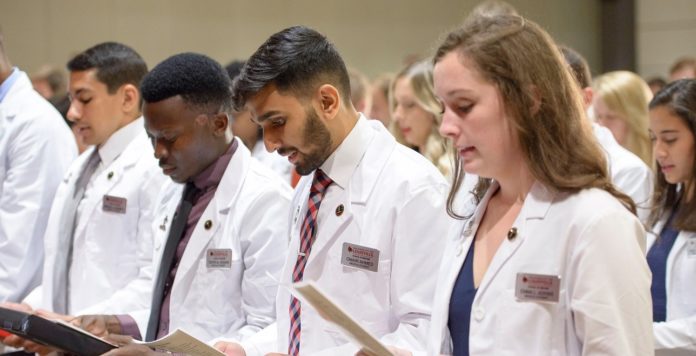 Throughout the next month, 360 students in the health professions will take their first step in establishing the importance of the provider-patient relationship.
UofL's Schools of Medicine, Nursing and Dentistry each host a White Coat Ceremony encouraging students to enter into an inner, personal contract, accepting the obligations specific to their practice, as they are cloaked with a white coat.
University of Louisville President Neeli Bendapudi, PhD, gave the keynote address to more than 160 medical students during the School of Medicine Class of 2023 White Coat Ceremony on July 28.
"The ceremony is designed to clarify for students that a physician's responsibility is to take care of patients, care for the patients and practice humanism in medicine," said Toni Ganzel, MD, MBA, FACS, dean of the School of Medicine.
Nearly 50 doctorate of nursing practice students will receive a white coat on Aug. 15 during a ceremony on the UofL Health Sciences Center campus. Presiding will be Sonya Hardin, PhD, MBA, MHA, CCRN, NP-C, FAAN, dean of the UofL School of Nursing.
Finally, 120 dental and 30 dental hygiene students will participate in a White Coat Ceremony Aug. 24 at The Palace Theatre for the UofL School of Dentistry's event.
David C. Johnsen, DDS, MS, dean of the University of Iowa College of Dentistry and Dental Clinics, will give the keynote, with UofL School of Dentistry Dean T. Gerard Bradley, BDS, MS, DrMedDent, presiding. Johnsen, a pediatric dentist, will speak on critical thinking in learning and professional environments.