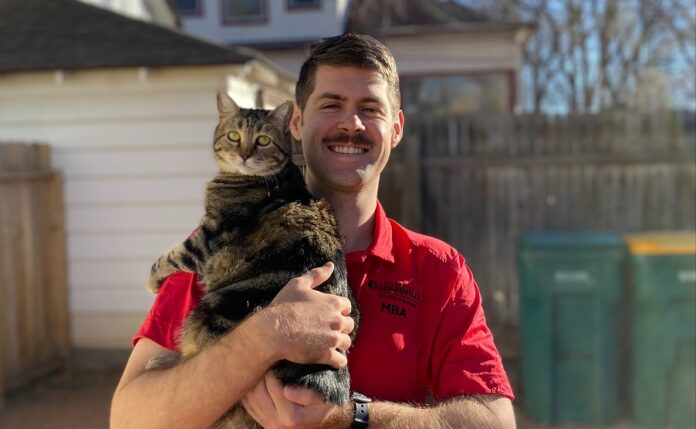 A native of Colorado Springs, Hanson was commissioned out of the United States Air Force Academy in 2019 as an acquisition officer. His first assignment was at the GPS Operations Support and Sustainment Division at Peterson Space Force Base in Colorado Springs where he served as a program manager for the sustainment and modernization of the GPS operational control segment.
Following that assignment, Hanson moved to the Air Force Research Laboratory's Space Vehicles Directorate as the government lead for the Catalyst Accelerator. The Catalyst Accelerator's mission is to introduce innovative, dual-use technology to the Department of Defense in support of the U.S. Warfighter while strengthening the nation's economy by investing in start-ups and small businesses.
Hanson chose UofL in 2021 due to its "great reputation within the military community because of the flexible programming and mutual understanding that duty comes first." He said the certificate options offered within the online master of business administration program were appealing, specifically the managerial analytics certificate.
His favorite part of his time at UofL has been getting to know his classmates and working with them on a wide range of projects throughout the MBA program.
"Everyone has a unique background and it's been great getting to know people on a professional and personal level," he said.
Among the excellent faculty and staff in the MBA program, Hanson cited Professor Jeff Rushton, his MBA 655 – Strategic Management instructor. Hanson said Rushton provided immediate feedback and had a great ability to encourage students to dig deeper on topics.
Finley hopes to utilize his MBA to serve as an instructor either in a Reserve Officer Training Corp detachment or at his alma mater, the U.S. Air Force Academy.
UofL is proud to recognize the third birthday of the United States Space Force on Dec. 21 by recognizing a Space Force member – known as "guardians" within the service – who also is a UofL student.
The United States Space Force is the nation's newest branch of the Armed Forces, coming into existence in 2019. According to its mission statement the United States Space Force is "responsible for organizing, training and equipping guardians to conduct global space operations that enhance the way our joint and coalition forces fight, while also offering decision makers military options to achieve national objectives."