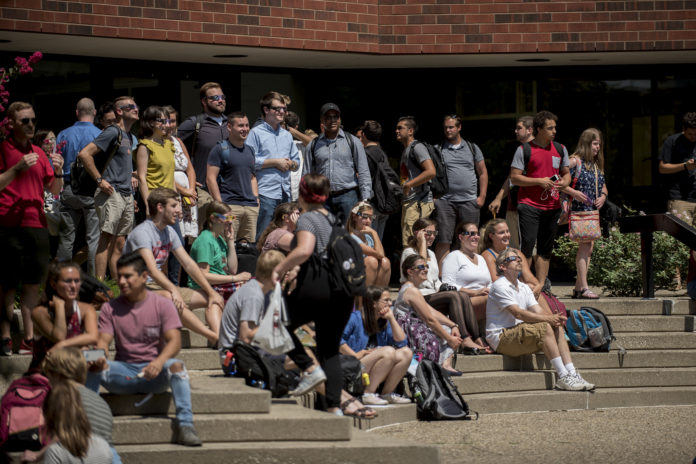 For a brief moment of time in the middle of the afternoon on Monday, the typically-nocturnal cicadas sang, the street lights glowed and a dusky shadow hovered over the University of Louisville. 
Hundreds of faculty, staff and students emerged from their classrooms on the first day of the semester to brave the heat and don special sunglasses in anticipation of the first total solar eclipse visible from the contiguous U.S. since 1979.
Louisville itself witnessed the moon covering about 96 percent of the sun beginning around 1 p.m. and lasting just less than 3 hours. 
A few engineering students gathered near Grawemeyer Hall for the occasion.
"I'm a big science guy, so this is cool. It's a once-in-a-lifetime event," said Donovan McCoy, a senior engineering major.
"I've never seen anything like this. There are people all over the place, looking up," added Eric Lewis, a sophomore mechanical engineering student.
Unlike McCoy and Lewis, Kelsey Hamilton doesn't consider herself to be a science person. Still, the junior communications major was just as excited to witness the event.
"It's really cool to experience this and to be here while doing it. I love everyone's excitement about it. I work at the Information Center, so people have been talking about it every day, which has added to the excitement and it's finally here," she said. 
Dillon Miles, who works in the Development Office, added that the opportunity to witness the eclipse on a campus made it even more special. 
"We work at an institution that is focused on learning," he said. "What a better way to learn than to observe it in person?" 
Those who missed today's phenomenon will have to wait until 2024 for the next total solar eclipse in the U.S.