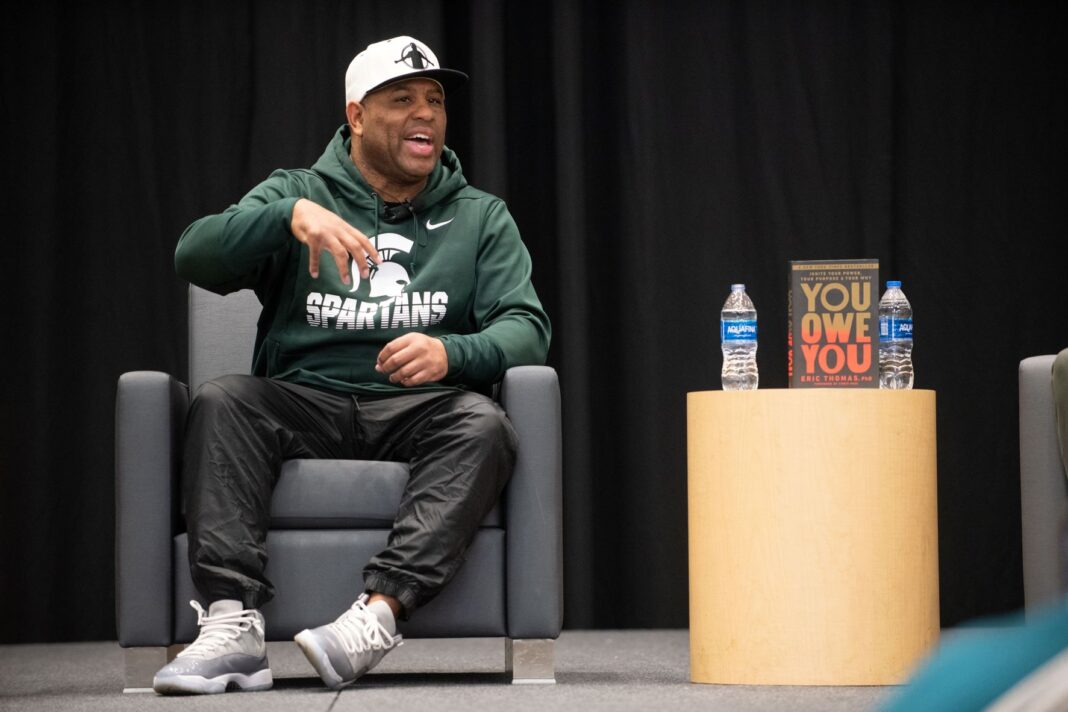 The University of Louisville's Signature Partnership School Initiative was advanced and strengthened during Black History Month 2023 with a tailored event for about 400 7th, 8th and 9th grade students from four Jefferson County Public Schools: Grace James Academy, WEB Dubois School and two of UofL's Signature Partnership schools, Central High School and The Academy at Shawnee.
The Office of the Vice President for Community Engagement – which oversees Signature Partnership strategy and events – sponsored an appearance by Eric Thomas, known as the "Hip Hop Preacher" for his ability to connect with young people to motivate them to succeed.
"Dr. Eric 'ET' Thomas' passion, drive and grit are second to none," said Vice President for Community Engagement Douglas Craddock. "His keen ability to connect with everyone he interacts with is evident and both impactful and inspirational. His visit to UofL was remarkable and will have a lasting effect on our campus and community."
Sharing his own life experiences, Thomas talked about "going from a GED to a Ph.D." to encourage the audience to achieve greatness.
"I'm a high school dropout. I was homeless for two and a half years, and somebody came in my life and said, 'It's not where you are, it's where you want to be,' and they helped me go from a GED to a Ph.D.," he said.
A New York Times best-selling author for his book, "You Owe You," Thomas uses easy-to-recall phrases to help plant motivational ideas in students' minds:
"When you want to succeed as badly as you want to breathe, then you will be successful."
"It doesn't matter what hand you have; it matters the way you play the hand you have."
"God's going to take care of you, don't worry about that. But the question is, are you going to have the character to sustain that blessing?"
Thomas understands young people facing challenges because he has walked in their shoes. His urgent message to stop waiting for inspiration to strike and take control of your life is one he wishes someone had given him when he was a teenager—lost, homeless, failing in school and dealing with the challenges of being a young Black man in America.
Once he was able to break free from thinking of himself as a victim and truly understand his strengths, he switched the script. And today, he reaches out to reveal how others can rewrite their life's script. 
His work perfectly aligns with UofL's Signature Partnership Initiative, which works to enhance the quality of life and economic opportunity for residents of west Louisville. The goal is to collaborate with various community partners to improve the education, health, wellness and social status of individuals and families who live in Metro Louisville's urban core.
"UofL's Signature Partnership Initiative works closely with community residents, Jefferson County Public Schools, Louisville Metro Government, Metro United Way, the Urban League, faith-based organizations and many others in existing and new programs to eliminate or reduce disparities that West Louisville residents experience in education, health, economic and social conditions," Craddock said. "We draw upon the expertise and energy of faculty, staff and students from every school and college at UofL to deal with the quality of life issues affecting our community."
In addition to addressing the JCPS students in the Swain Student Activities Center Ballroom on Feb. 15, Thomas also spoke with student athletes on the football and men's basketball teams.