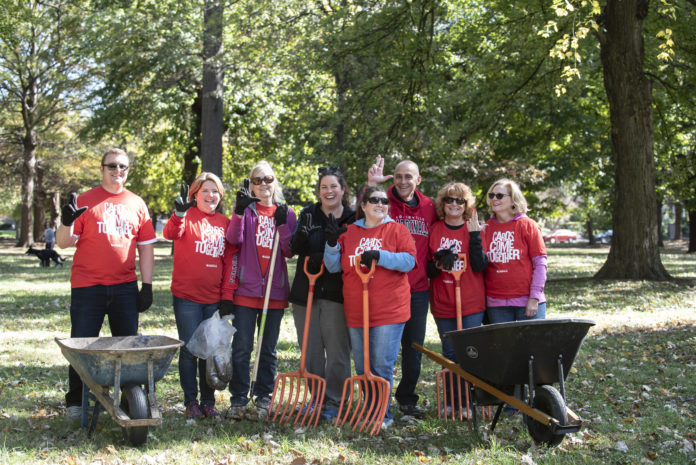 Several hundred UofL faculty, staff, students and alumni flocked to several sites across the campus and city for the university's inaugural week of service last week. 
Cards Come Together service opportunities included a community cleanup in Old Louisville, a composting project, a beautification project with New Directions and volunteering at the Americana Community Center's fall festival. In addition, daily on-campus donation drives benefited Dare to Care, Volunteers of America Shelby Men's Recovery program, Jefferson County Public School students and Catholic Charities of Louisville. 
President Neeli Bendapudi and Athletics Director Vince Tyra kicked off the week of service at the Red Barn during the Wear Red to be Fed cookout. Bendapudi asked the crowd to "…think of Cards Come Together as University of Louisville's love letter to the city of Louisville."
To show their passion, participants, including a slew of student-athletes, traveled to Old Louisville to begin the community cleanup by landscaping community green space.
Volunteers also painted faces and pumpkins at the Americana Community Center's fall festival, painted and landscaped a Germantown house at the New Directions Housing Corporation beautification project and sifted worms in super soil and turned compost using pitchforks and shovels at the community composting project.
Niki King, communications and marketing specialist, participated in the community composting project and said the week of service fostered a sense of pride as part of the UofL family.
"I'm passionate about sustainability, so I was excited to have this opportunity to work on composting as part of Cards Come Together," said King. "During the composting project, we learned that UofL has the only community compost in Metro Louisville, which made me appreciate just how vital UofL's leadership is for the region's sustainability efforts." 
King also pointed out that the service projects offered a rejuvenating change to the normal work day.
"I largely work at a desk all day. It was nice to have a change of pace and work with my hands in the outdoors for a bit," she said. "It was refreshing."