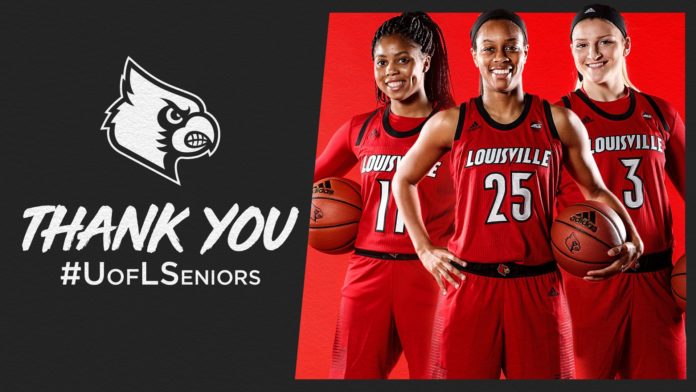 The UofL Women's Basketball Team faces Oregon State Friday night in the NCAA tournament, marking the Cardinals' third Sweet 16 appearance in a row. Driving much of this success is the senior trio of Arica Carter, Asia Durr and Sam Fuehring, the winningest class in program history.
Just how big of an impact has this class had? Consider this: These three players have lost just five games in the past two seasons combined. Last year, they led a team that reached the Final Four and put together a program-best 36-3 record. This trio has an 85% winning percentage throughout their four years in red and black and, no matter when their 2019 tournament road ends, they're assured to finish their careers with the fewest losses and best winning percentage in program history.
They have generated excitement and instilled pride and they're not done yet.
Douglasville, Georgia, native and Naismith finalist Asia Durr has achieved an ACC-best 21.3 points per game this year, which perhaps explains why Sports Illustrated calls her the "most electrifying player in women's college basketball."
In describing Durr's playing style, UofL assistant coach Stephanie Normal told the publication, "It's really like a canvas and she's painting on it. And I'm not quite sure if the lines are going to go up and down or side to side or go in circles. But when it's all said and done, it's a masterpiece."
Durr's Cardinal career has endured tough losses and injuries. Last year, she began meditating regularly and is now better prepared for basketball physically and mentally, Sports Illustrated writes. As such, in addition to being a Naismith finalist, Durr is also a finalist for the Dawn Staley Award, espnW All-America First Team, Ann Meyers Drysdale Award finalist, Kay Yow Scholar Athlete of the Year, ACC Player of the Year, All-ACC First Team and so on. Astonishingly, her resume's not complete yet.
Still, as she told Louisville Magazine last year, "I don't play for awards. I play because I love the game of basketball. I play because I love my teammates, my coaches and my family." 
Often feeding Durr's scoring habits is Arica Carter, a redshirt senior guard who is prolific in both shooting (40% from the three-point line) and assists. Carter's floor general skills also help her academically as she pursues a psychology degree from the College of Arts & Sciences. She wants to be a coach or a sport psychologist when she graduates. 
Carter chose her major, in fact, because of her athletic career.
"As a basketball player I had to get help from the sport psychologist with controlling my thoughts. Because she helped me the way she did, I want to help others. I understand how much the mind can affect one's ability to play their sport," she said.
Alongside basketball, it is Carter's family that drives her.
"My role models are both my mom and sister because they are two strong women who keep pushing through no matter what the circumstances are. They always try to find something positive in bad situations," she said.
Carter is a long way from family now. Ironically, however, this is why the Los Angeles native loves being a part of UofL.
"My favorite thing about Louisville is the support the fans show outside of basketball. My favorite thing about UofL is the feeling of family that I get when I'm around my teammates and faculty members. I am a very family-oriented person and with my family being so far away, it is important that I feel like I'm a part of a family here," she said.
Sam Fuehring, a 6'3" senior from Wanaque, New Jersey, contributes 10.2 points and 7.2 rebounds. She is described by Sports Illustrated as the team's emotional leader. A Courier Journal profile from 2017 supports this, illustrating a challenging childhood in which Fuehring and her family was repeatedly evicted from their home and her 2-year-old niece was killed in an accident. 
After the accident, the CJ writes, "Sam Fuehring, normally feisty and outspoken, became withdrawn and moody. She was prone to crying fits and occasionally lashed out angrily at others or at herself … The pain was still fresh when she arrived at Louisville for her freshman season."
Eventually, Fuehring transitioned her grief into motivation. She has her niece's name tattooed on her wrist.
When UofL takes the court in Albany, New York, tonight – and potentially Sunday if they win – Fuehring's constituency will be full of friends and family who made the two-hour trip from her New Jersey hometown.
"It feels great just knowing I'm around home and my people are coming," she told the Courier Journal this week. 
Thanks to Fuehring, Carter and Durr, their trip will most likely be worth it.