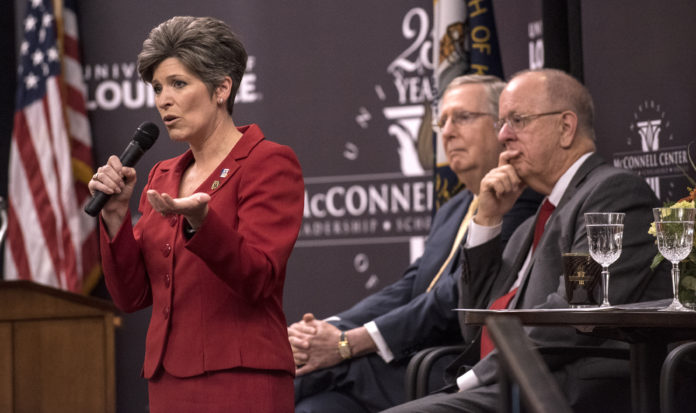 Thirteen years ago, Joni Ernst was serving as a company commander with the Iowa Army National Guard in Iraq and Kuwait. On Friday, Ernst headlined the latest installment of the McConnell Center's Distinguished Lecture Series, speaking as the first federally elected female representative from her home state of Iowa.
"It truly is a long way from Red Oak, Iowa, to the marble halls of the U.S. Senate in Washington, D.C.," Ernst said. "I've been successful because I've taken the lessons learned in my military career and used them as guidance in my civilian life. I told your McConnell Scholars this morning that if you are truly not taking on a challenge or assuming any type of risk, you will not move forward in your lives and careers. There is risk in everything."
Majority Leader Mitch McConnell introduced Ernst – the first female combat veteran to serve in the Senate – as a "rising star" in Washington who has quickly made her presence felt in the upper chamber since winning a special election just two years ago.
As a veteran and member of the Senate's Armed Services committee, Ernst expressed deep concern about the U.S. plan to combat a variety of global terrorism networks, especially in Southeast Asia. Ernst said the growing presence of ISIS in countries like the Philippines follows the same blueprint used by Al-Qaeda more than a decade ago.
"Our country has failed to put together a comprehensive plan for the Middle East in order to fight Islamic extremism and to dismantle the global efforts that allow groups to come back stronger in other key regions of the world," Ernst said.
Watch video from Ernst's talk below: