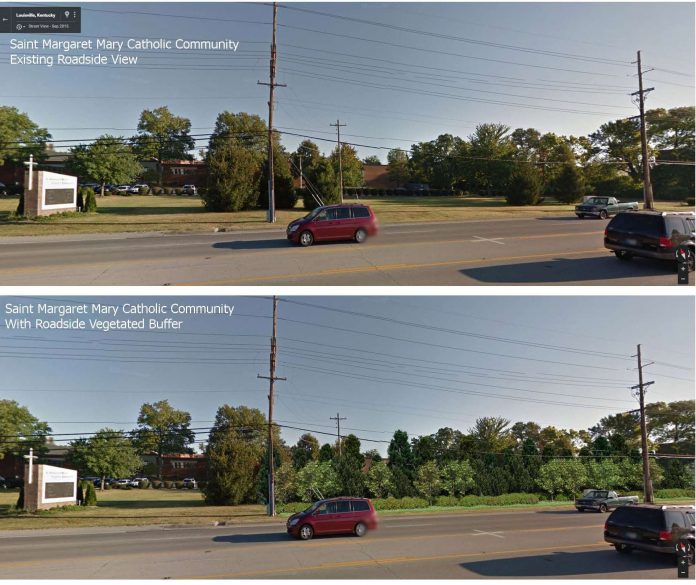 A local school has joined a landmark health research project headed by the University of Louisville designed to use nature to tackle the health impact of busy city streets.
St. Margaret Mary School, 7813 Shelbyville Road, is the new site of an experiment designed to use trees and shrubs to create a living filter for roadway air pollution. The project will be a model for metro-wide "greening" projects that use our environment to improve health.
The Louisville Green for Good project is a collaboration among the Diabetes and Obesity Center at the University of Louisville, The Institute for Healthy Air Water and Soil and the City of Louisville's Office of Sustainability.
The current levels of air pollution at the school will be measured and then half of the school's front yard will be filled with a green buffer of shrubs, deciduous trees and pines. Then the team will measure air pollution levels a second time. The goal is to test the idea that a greener neighborhood is a healthier neighborhood.
"This project has the potential to improve the health of nearby students and residents for years to come by improving local air quality," said Aruni Bhatnagar, PhD, the Smith and Lucille Gibson Chair in Medicine and director of the University of Louisville Diabetes and Obesity Center. "St. Margaret Mary was chosen due to its location which is close to a high traffic roadway. The school also includes a spacious lawn that allows for the addition of foliage, which will act as an air-cleansing barrier between the school and the street."
Mayor Greg Fischer said, "I am committed to helping Louisville become a greener and healthier place to live – and, I'm a data guy. So I'm excited that this project will provide the data we need to move forward on our sustainability goals for the city."
St. Margaret Mary Principal Wendy Sims said she is excited about this project for the parish, school and community. 
"In his encyclical letter 'Laudato Si',' Our Holy Father Pope Francis reminds us that 'we must regain the conviction that we need one another, that we have a shared responsibility for others and for the world, and that being good and decent are worth it … social love moves us to devise larger strategies to halt environmental degradation and to encourage a "culture of care" which permeates all of society'," Sims said. "This project is a wonderful lesson for our students, faculty, and parents about how to foster such a culture of care, now and for future generations."
Air monitoring will start this summer. The trees and shrubs will arrive in October with a second round of air monitoring taking place later this year. Students will participate in the monitoring work.
In addition to tracking certain pollutants, the project team will collect data on traffic and weather.
The project includes ecology experts from around the country with deep understanding of air pollution and the power of plants.
Funding comes from the Funders' Network for Smart Growth and Livable Communities.
The research effort is a project of the Funders' Network for Smart Growth and Livable Communities. The grant was matched with $50,000 from the Owsley Brown Charitable Foundation and $25,000 from an anonymous donor in Louisville. The Institute for Healthy Air, Water, and Soil received the funds and will be managing the project.