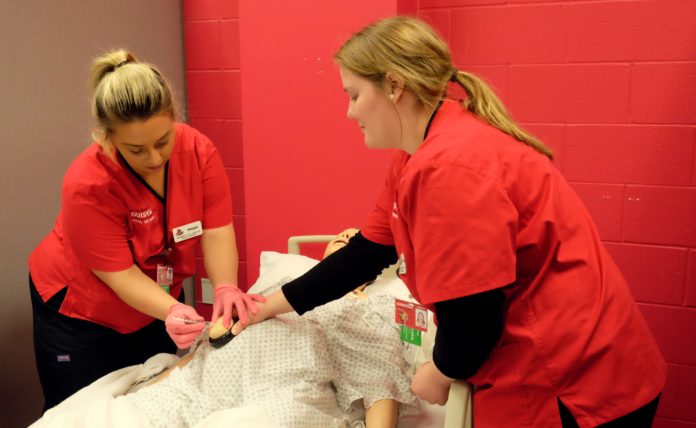 University of Louisville School of Nursing students soon will double their hands-on clinical simulation learning through a major lab renovation funded by two donations of $125,000 each, one from The Bufford Family Foundation and the other from Trilogy Health Services.
The funds will allow a lab on the third floor of the School of Nursing to be transformed into a four-room simulation suite and home health care space called the Trilogy Health Services Simulation Lab. In addition, a separate observation room for instructors will be built. Construction starts this summer and will be completed in the fall.
Also, the school will buy a fourth high-fidelity adult patient simulator that will be housed in the lab. The school has been restricted to using only two of its three adult simulators because of space constraints. During labs, groups of five to 10 observe a single student's interaction with a patient simulator, and because of the limited space, students spend more time observing rather than administering interventions. 
The renovated lab will allow continuous use of all four adult simulators, doubling the time students spend as the caregiver from 20 to 40 hours during undergraduate education.
"The ability for nursing students to spend quality time performing hands-on learning is critical to ensure that the students have confidence in providing the highest quality care," said Randall Bufford, CEO of Trilogy Health Services. "We are proud, both organizationally and personally, to provide the support needed to expand the clinical simulation lab."
Hands-on learning in patient simulation labs is essential to educating health care students, enabling them to sharpen complex skills in preparation to face real patients. Simulators present numerous conditions that students respond to, including difficulty breathing, seizures and heart attacks.
"The School of Nursing is honored to partner with Randy and Susan Bufford and the Trilogy family in this technology investment for our students," said School of Nursing Dean Marcia J. Hern, EdD, CNS, RN. "Practicing on a lifelike mannequin that can talk, breathe and have increased heart rate and blood pressure allows students to make sound decisions under the guidance and direction of our faculty and staff. At times, students are almost brought to tears when they realize the gravity of clinical decisions they will later make in real-life settings."