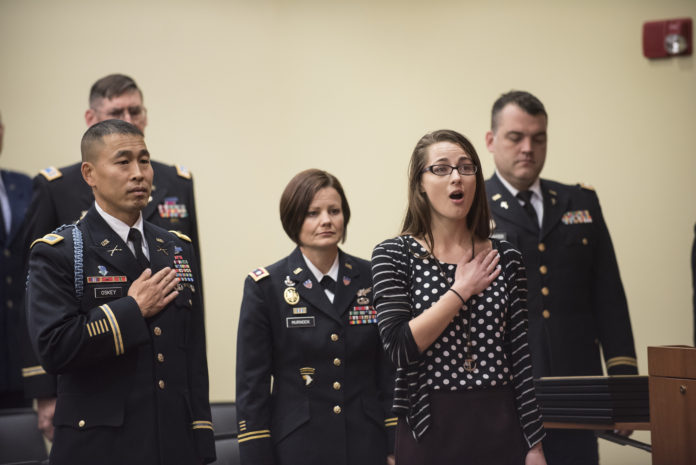 In two ceremonies, six University of Louisville Army ROTC students and two Air Force ROTC students became commissioned officers Dec. 16.
During the Cardinal Battalion Army ROTC ceremony in Chao Auditorium, the cadets each commissioned a second lieutenant and assigned to their branches. Three were assigned to the Army Nurse Corps and one each was assigned to the Armor, Chemical and Field artillery branches. Four will be active duty soldiers, while one was assigned to the Army Reserves and one to the Army National Guard.
The new Army officers bring to 416 the total number of officers UofL's Army ROTC has commissioned during its 34-year history.
Guest speaker Col. Lance Oskey, commander for U.S. Army Cadet Command's 7th Brigade, told the cadets that their careers in the Army will make them lifelong learners.
"The Army will prepare you for each step in your journey," he said. He advised them to spend as much time as possible with the troops in their commands, saying, "The days are long but the years are short."
In both ceremonies, each cadet received a commission certificate, then family members or friends attached gold bars to the cadets' uniforms. The tradition of the first salute followed, in which the new second lieutenant presented a silver dollar to the first enlisted person who rendered a salute.
UofL music school student Nala Kathleen sang the national anthem at the Army commissioning.
The following Army cadets were commissioned: 2nd Lt. Michael Connolly, 2nd Lt. Emily Farrar, 2nd Lt. Zacharie Frank, 2nd Lt. Christopher Jenkins, 2nd Lt. Christopher Meany, 2nd Lt. Paul Morlock.
During their ceremony in Bigelow Hall in the Miller IT Center, the following Air Force cadets were commissioned: 2nd Lt. Patrick Assef and 2nd Lt. Benjamin Soto.
The Air Force cadets are part of the 295th Air Force ROTC Cadet Wing, led by Lt. Col. Jerry Crigger.
Crigger gave the A.J. Kramer Wingman Award to Assef. The A.J. Kramer Wingman Award is named in honor of Anthony Joseph "A.J" Kramer, an Air Force ROTC cadet who was within months of graduating from UofL in 2013 when he was killed in a motorcycle accident. It is voted upon by the cadets to honor a graduating cadet who provides exemplary support, leads by example, and demonstrates strong integrity, initiative and diplomacy.