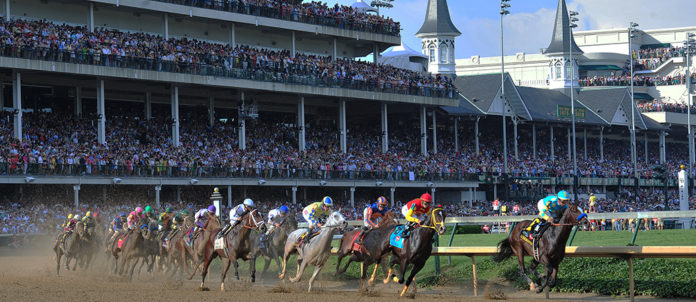 The University of Louisville's Belknap Campus is 0.8 miles from Churchill Downs – the most famous horse track in the world.
But our connection runs far deeper than sheer proximity. In fact, UofL's Board of Trustees nearly purchased Churchill Downs in the 1960s, hoping to generate a steady revenue stream during a period of financial struggles. However, according to "The University of Louisville" by Dwayne D. Cox and William J. Morison, the plan was called "shameful and godless" by a local minister and deemed impractical.
Despite that failed plan, there remains quite a few UofL ties, either directly or peripherally, to the track's flagship event, the Kentucky Derby – the most famous horse race in the world.
As it turns out, UofL has faculty, staff, alumni and a whole lot of students involved in The Most Exciting Two Minutes In Sports. Through Thurby, Oaks and Derby this week, members of Card Nation will sling drinks, clean up trash, evoke emotion by playing "My Old Kentucky Home" and more.
To get a sense of just how unique a perspective we have to this massive global event, look no further than Remington Smith, an assistant professor of Communication in the College of Arts & Sciences. Smith recently received the Reel South Short award for his documentary, "The Derby." The Indie Grits Festival and PBS Reel South give the Short award to the best short documentary filmed in or about the south.
"The Derby" showcases Guatemalan backside workers, bourbon-drinking visitors in Millionaires Row and everything in between; a juxtaposition of "the haves and the have nots," as the Courier Journal explains. Smith spent about three years on the project.
"I grew up poor and working class, so I'm always interested in the lives of people working, especially at big events like the Kentucky Derby. The main thing was I didn't want to focus on the usual suspects at the top for Kentucky Derby coverage (horse owners, jockeys, etc.). I wanted to show you the moments only people who live and work here will tell you about," Smith said.
The 15-minute documentary is now airing on PBS. 
Of course, one of the signature features of the Derby is the mint julep, which showcases Kentucky's rich bourbon tradition. Those mint juleps, as well as the many other cocktails sold at the venue, have to get to fans somehow. That's where UofL's ROTC cadets step in.
For the past eight years, our cadets have worked behind the scenes with the venue's alcohol vendor to make those drinks. According to Captain Steven Richards, assistant professor of Military Science, the work is hard, but the cadets get compensated.
"They're on their feet all day Thursday through Saturday working alongside each other in a big assembly line. It's all hands on deck from 6:30 a.m. to about 6 in the evening. They are long days of hard labor, but they're valuable," Richards said. "Teamwork is a huge part of what we're trying to build here and they get a lot of camaraderie from this."
The money that the cadets earn from this work typically goes toward their Military Ball and other ceremonial occasions such as graduation and commissioning. Derby weekend is the only event in which they work to build up these budgets.
"Obviously the Derby brings a lot of economic stimuli to Louisville and we're fortunate to be able to tap into that a little bit and to benefit from that," Richards said. "I'm really happy that this translates to our students and supports them directly."
Unsurprisingly, UofL's Equine Program has some involvement in this weekend's festivities. Madison Jackson is interning in the race office, while Adrianna Lynch is shooting photos for BloodHorse magazine, Brianna Vitt is shooting pictures for the official track photographer Coady Photography and Tricia Warrens is doing work for Upson Downs Farm, a breeding farm in Goshen, Indiana.
A number of graduates from the Equine Program are also heavily involved in the Derby, either through event marketing (Gary Palmisano), as a blood stock agent (Josh Stevens) or in another capacity.
Speaking of alums, the Hite Art Institute has two from the Graphic Design program who are on the creative team at Churchill Downs. Emily (Schmidt) Shepard, BFA '10, is the director of Design and Creative at the Downs and the Kentucky Derby, while Zach Downs, BFA '18, was just hired as a production designer. Also, Colin Dean, a senior Studio Art minor, participated in the Poetry Derby, where he read his poem, "Drive By."
Communications graduates (and alums of Professor Karen Freberg) Abbie Chambers and Michael Jester have joined the social media team at Churchill Downs for the weekend's events. They are tasked with creating content for both the Oaks and the Derby.
Throughout Derby weekend, UofL Housing staff will assist with check-in and check-out for groups and individuals coming in for the event. According to Jarayon Jackson, assistant director for Summer Operations, this group will have about 290 people working the check-in process on May 1 and May 2.
Students from the Biomedical Engineering Society will volunteer on both Oaks and Derby day, cleaning up trash and helping to keep the venue clean. According to Maddy Wesley, BMES president, about seven students are participating in this effort.
Also, as has been the case since 1937, the UofL Marching Cards will serve as the official band of the Kentucky Derby this year, opening up the flagship race Saturday with "My Old Kentucky Home" as TV cameras pan to attendees typically in tears. 
And, finally, UofL alumni chapters across the nation will host parties to celebrate the Derby. Check out the schedule here to see if there's one in your area, and enjoy that mint julep.