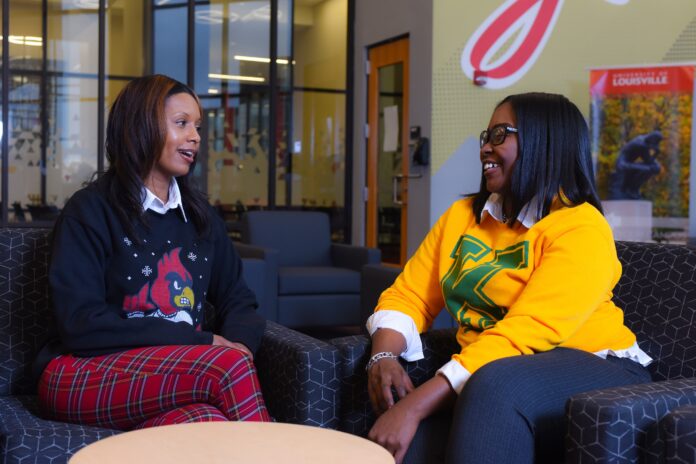 When a patient visits a doctor of a similar race or ethnicity, the patient often experiences better outcomes. The same goes for education among teachers and students, therapists and patients, social workers and clients and so forth.
"Representation matters," said Shawnise Miller, Kent School of Social Work and Family Science's director of the Master of Science in Social Work program.
This significance of boosting minority representation in the social work field fueled Miller's development of the HBCU Cardinal Express to Success. The initiative, launched in 2019, aims to increase the number of advanced social work practitioners of color through recruitment and education of students from Historically Black Colleges and Universities (HBCU).
She says equipping students with resources and support necessary to complete a master's degree in social work from UofL is the program's focus.
"Particularly among Black Americans, there is stigma around mental health, and graduating social workers of color can build trust because we share the same Black experience," Miller said. "Our goal is to diversify the social work profession and in turn increase racial and culturally appropriate services and interventions that mirror the communities in which our graduates serve."
The HBCU Cardinal Express to Success program centers around strategic partnerships with HBCU academic programs that don't already have an established accredited masters social work program on campus. Miller is in process of strengthening the pathway for Kentucky State University's undergraduate social work students.
Berrac Strode attended Kentucky State as an undergraduate and was one of the first students to go through UofL's program. Strode says he wasn't sure he wanted to attend grad school.
"As a person of color graduating from a HBCU, I internally limited my grad school options. The HBCU Cardinal Express to Success Program broadened my options and gave me confidence and reassurance that I could complete a graduate program," he said.
Strode graduated with a MSSW in May 2021, and is working in Lexington as a therapist for individuals with intellectual or developmental disabilities. His goal is to become a licensed clinical social worker and open a practice serving at-risk youth.
The Kent School offers an accelerated admissions process and scholarship opportunities for HBCU students. Throughout their UofL education, HBCU Cardinal Express to Success participants engage in individualized research and professional coaching, career placement support and social networking opportunities.
Learn more about Berrac Strode's story in this Q&A with UofL News.