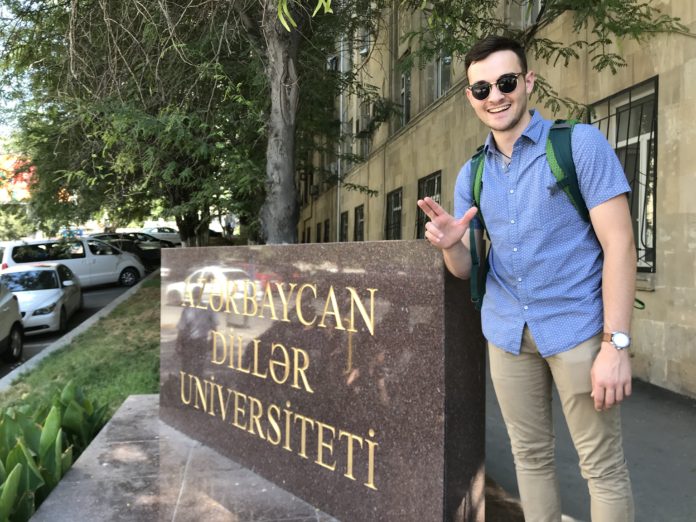 Devin Brown applied for a Critical Language Scholarship three times in three years.
In 2018 he hit pay dirt: the recent political science graduate won the award to study the Turkish language at Azerbaijan University of Languages in Baku, Azerbaijan.
So he packed his bags, said his goodbyes, and headed off.
But then, a funny thing happened at Dulles International Airport in Washington, D.C.
While waiting for his flight and browsing email, Brown learned that he had also won the prestigious student Fulbright scholarship. The email informed him he could begin his Fulbright as an English teacher in Ankara, Turkey, during the fall semester.
"I honestly didn't know what to do. I was speechless," said Brown, who learned months ago that he was an "alternate" for the award.
"I had already given up on Fulbright and had enrolled in another Turkish language program in Baku for the fall semester," Brown said. "Winning this Fulbright has reassured me of the value of my study and validated almost two years of hard work. Doing the CLS in Turkish followed by a full year in Ankara, Turkey, really feels like a dream come true."
Brown's Fulbright makes him the 11th UofL scholar to earn the prize in 2018 and underscores the university's remarkable record in competitions for prominent student scholarships.
"Winning both awards is even better," said Bethany Smith, of UofL's Office of National and International Scholarship Opportunities.
The CLS takes place during the summer and the Fulbright starts in the fall. So, he will be able to do both and stay abroad for a whole year.
"Devin worked incredibly hard on his Fulbright application, knowing it was very risky as there haven't been ETA winners to Turkey in recent years," Smith said. "We're so pleased this worked out for him."