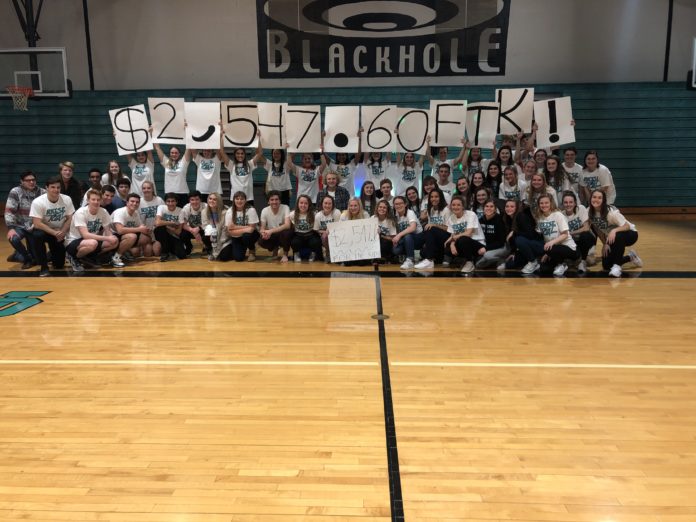 While raiseRED culminates in a 24-hour dance marathon later this week, the organization also hosts a number of mini-marathons at local schools year round.
The mini-marathons, which have taken place for roughly five years, began as a way to not only raise money for pediatric oncology and raiseRED's overarching goal, but establish ties between UofL and the local community.
"We wanted to get more involved with the schools in our community, especially with the students that are potentially going to come to the University of Louisville," said Emma Gabbard, one of the mini-marathon coordinators. "We wanted to engage them earlier than later and show them what kind of service opportunities they can have at the university."
Lasting anywhere between six and eight hours, a number of local schools have hosted their own mini-marathons, including Male, Central Hardin and North Oldham high schools. One long time partner, Ballard High School, will host its 5th annual mini-marathon this year.
The money raised at the mini-marathons contributes to raiseRED's final total revealed at the larger 24-hour marathon. The experience, Gabbard believes, gives the participating students hands-on leadership experience.
"Just showing them something they can be passionate about and giving them the means to be passionate about something is really impactful," said Gabbard. "They get complete ownership of this too, it's not us running it for them. They run it with our assistance."
Catherine Ehlman, co-coordinator of the mini-marathons, is inspired by the students she and Gabbard work with.
"Watching students of all ages come together voluntarily to raise money to find a cure for pediatric cancer and blood diseases reaffirms my belief that our generation of young people can come together and accomplish anything," said Ehlman. "The University of Louisville is an institution at which they can continue to make an impact on their community and the world at large."