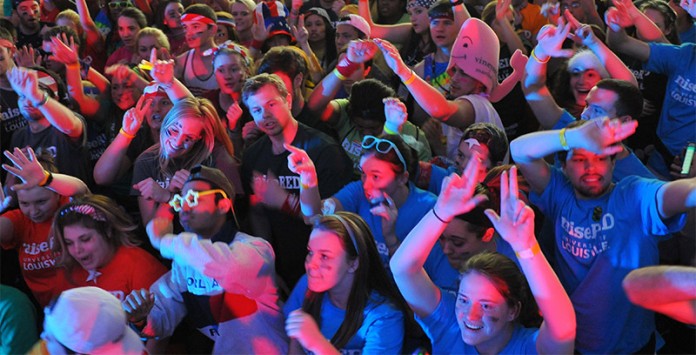 Nearly 1,000 dancers are registered for this year's fundraising event.
raiseRED, a student-led philanthropic group at UofL, kicks off its annual dance marathon fundraiser at 6 p.m. on Friday, Feb. 26 in the Multipurpose Room at the Swain Student Activities Center. Money raised from the event will go toward fighting pediatric cancer in Louisville.
The group hopes to raise $300,000, $75,000 more than last year's total. Nearly 1,000 dancers are registered.
"This is already a record-breaking year for raiseRED," said Joey Schmidt, operations director of raiseRED. The amount of dancers and involvement from the community are the highest that they have ever been.
During the event, students are broken into to teams and commit to dancing through to the next morning. The night will feature themed hours, guests and more to keep participants energized.
The community is invited to participate from 9 a.m. to noon on Saturday, Feb. 27. The fundraising total will be announced at noon.
Money raised during the dance marathon benefits the UofL Department of Pediatrics' Division of Pediatric Hematology and Oncology, headed by Dr. Kenneth G. Lucas, division chief of Pediatrics.
To make an online donation, go to https://uofl.useed.net/projects/275/home. Contributions are tax-deductible and 100 percent of donations go to the University of Louisville Pediatric Hematology and Oncology Clinic.
The dance marathon is also sponsored by Papa John's, Churchill Downs, Integral Analytics, Inc. and Noodles & Company.
For additional information, visit raisered.org or email raisered1@gmail.com.