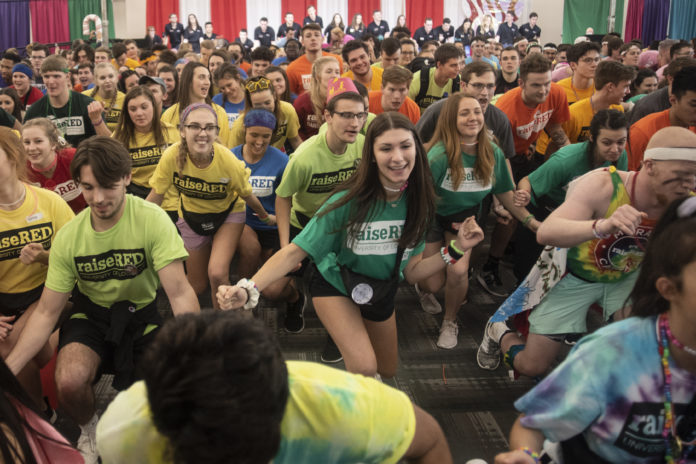 Editor's Note: This story has been updated to reflect the total amount raised from this year's dance marathon event: $690,921.70. This represents a new raiseRED record. 
raiseRED has long been a signature UofL event, with more than 1,000 students raising money to fight pediatric cancer during the 18-hour dance marathon and other events during the year. Thus far, the organization has raised nearly $3 million. 
Students are passionate about the cause, often spending their entire college careers volunteering. That passion has continued for many long after graduation and, in fact, a new raiseRED Alumni Council was formally created in the fall of 2019 to connect UofL's alumni community with current participants.
The objective: To advocate for and advance the mission and vision of raiseRED while providing volunteer mentoring, financial and community support. 
UofL News recently sat down with Alumni Council Chairman Austin Schwenker to find out more about this new group, and what makes raiseRED so special to keep people involved long after graduation. 
UofL News: How many members of the alumni council are there and what are their duties?
Schwenker: Current active membership is around 30 to 40 people who live locally in Louisville, around the commonwealth, and throughout the U.S. and Abroad. The duties may better align with the goals of our council; the most important being a connection and network for members to stay involved and advocate for the advancement of the overall RaiseRED mission and vision. By bringing together a collective group with similar collegiate experiences and passions, our thought is that we can create a greater impact in our communities.
UofL News: Who can join the council?
Schwenker: Membership is open to anyone recognized as an alumni by the office of alumni relations whether they have direct experience with ULDM or RaiseRED — although many and most current members are prior dancers, team leaders, morale captains and eboard members.
UofL News: There are a lot of fundraisers people can choose to support. Why should they choose raiseRED?
Schwenker: First and foremost, 100% of every penny donated to raiseRED goes directly to the UofL Department of Pediatric Oncology and Hematology ("the clinic"). raiseRED […] is the University of Louisville's largest student-run philanthropic organization, and in the past five years, their efforts have raised over $2.3 million for research and patient needs.
RaiseRED funds research and contributes towards patient needs. This year-long fundraising effort culminates in an 18-hour dance marathon every February to honor the children we fight for. Not only does the organization raise money for the hospital, they build relationships with the families. CARDINAL CREW, a unique program that matches children with our leadership and hosts events that let them just be kids, is just one way this organization makes impacts in the community outside of financial support.
UofL News: Why do you think RaiseRED continues to be so successful?
Schwenker: I think raiseRED is unique where students are actively engaged through the dance marathon where they get to meet the people being helped by their fundraising efforts. We hear over and over how motivating this has been and has pushed dancers to get even more involved in the organization because of the personal connection and impact. 
As for why raiseRED remains so successful, the impact the organization has and the connection the students are able to make with each other, the clinic, kids, patients, families, and that truly differentiates a cause from a mission. So many students year over year align themselves to raiseRED's mission whether it be because of their personal connection to cancer through a family member, friend, or even sometimes their own experience. By aligning so many invested people to a mission instead of 'just another cause,' the support and commitment of those involved goes far beyond this year, this donation, hitting this contribution level. We never want another person to hear, 'your child has cancer.' We fight for the kids.