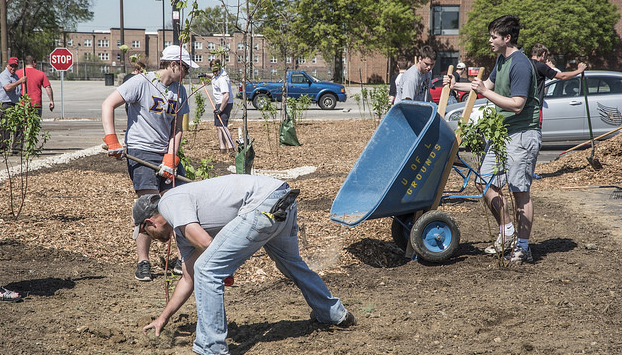 University of Louisville fraternity Sigma Pi worked along side the campus grounds department in April to fund, design and build a rain garden, which is located near the Speed Engineering School next to the intramural fields. The garden captures rain, adds beauty and promotes brotherhood on campus.
UofL Superintendent of Grounds, Greg Schetler, defines a rain garden as, "an area that retains water and filters it during a rain event that slowly releases after the rain has stopped. This area would act as a natural water filter, support wildlife, and reduce mowing, while providing aesthetic value."
About 30 fraternity members worked on the rain garden last semester, as well as a handful of volunteers from several sororities on campus and employees from the grounds department. The initial phase of the project was completed in four days. 
According to Tyler Hoffman, Sigma Pi member and coordinator of the project, the goal is to keep the garden maintained with a few workdays each semester. 
"We will pull weeds, replace any plants that have been damaged or removed and overall just make sure it is in good condition," he said. 
The fraternity has worked closely with the UofL Sustainability Council throughout the past two years to develop and complete its ACE (Altruistic Campus Experience) project. The rain garden is one of six different projects they could have chosen from.
"We felt that the rain garden was both the biggest task to tackle and the one that would have the longest noticeable results and would benefit the campus for the longest," Hoffman said. 
He expects that the rain garden will require less maintenance and yield fully developed native plants within three years. Milkweed was also planted and is the only plant that the monarch butterflies will lay its larva on, so he expects more monarchs on campus soon as well. Sigma Pi members plan to participate in maintenance days in the near future to help the garden grow and prosper.