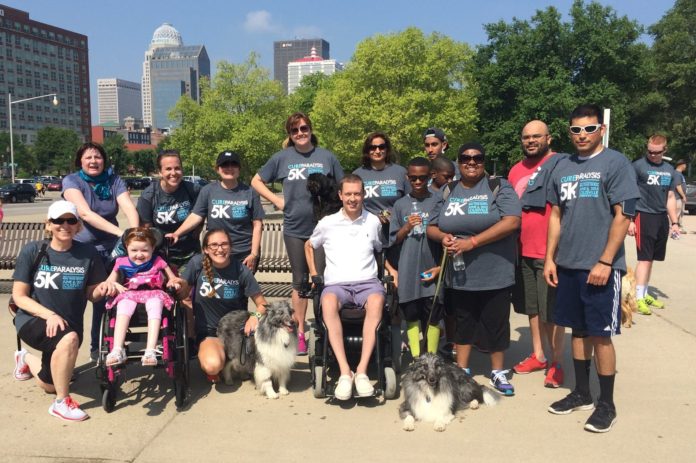 Runners, walkers, wheelchair participants, families and pets are invited to participate in the 11th annual 5K to Cure Paralysis at Louisville Waterfront Park on June 2. A portion of proceeds from the race, sponsored by the Todd Crawford Foundation, will benefit spinal cord injury research at the University of Louisville.
Crawford was 22 years old and had just graduated from college when he suffered a spinal cord injury that left him paralyzed. His family and friends organized fundraisers to help during his physical rehabilitation. Crawford went on to earn an MBA from UofL and is president of Crawford Designs. In 2006, he established the Todd Crawford Foundation and began to raise funds to support spinal cord injury and paralysis research.
"We have a large group of wonderful people who come to our events and support our mission. For this, we are continually grateful," Crawford said.
Racers may register online. Race-day registration begins at 9 a.m. on Saturday, June 2 at Louisville Waterfront Park and the race starts at 10 a.m. Entry is $25 for adults and kids under 12 race free.
One of the chief beneficiaries of the foundation has been the Kosair Charities Center for Pediatric NeuroRecovery at UofL. Directed by Andrea Behrman, PhD, PT, the center innovates treatments and provides therapy for children with spinal cord injuries using locomotor training, an activity-based rehabilitation approach that has led to progress in sitting, standing and stepping. The children are treated at Frazier Rehab Institute in Louisville, a part of KentuckyOne Health.  
In addition to pediatric neurorecovery, the foundation also supports the work of individual researchers at the Kentucky Spinal Cord Injury Research Center (KSCIRC) at UofL through the Crawford Scholars program. Scholarships for 2018 allowed researchers Darryn Atkinson, PhD, and Goutam Singh, PhD, to present research at national conferences, and funded advanced training in neuroimaging for doctoral candidate Luis Alvarado.
"The generous support of the Crawford Foundation allowed me to encounter this transformative experience at a crucial point of my training and has without a doubt helped shape the trajectory of my scientific career," Alvarado said.