In what she describes as "the pinnacle of my nursing career," Candace Harrington,  gerontology nurse practitioner professor, UofL School of Nursing, was recently inducted as a Fellow of the American Academy of Nursing. She joins 3,000 nurse leaders who are experts in policy, research, administration, practice and academia. As a fellow, she now serves on the academy's Aging Expert Panel, developing policy recommendations that aim to eradicate age-related health disparities, systemic racism and ageism contributing to poor health equity. UofL News caught up with Harrington to learn more about her insights and research.
UofL News: Please describe some of the health disparities that directly impact the older adult population. 
Harrington: Ageism is a collective result of stereotypes, prejudice and discrimination based solely on age. This is a relevant barrier to health care equity and patient safety. Our mindset of ageism must change. Human life means growing older across the life span without self-exclusion. The burden of preventable disease, mistreatment and inequity in access to and the provision of quality health care impedes opportunities to achieve optimal health. Optimal aging begins in early life and continues across the lifespan.
UofL News: What are some ways to overcome these challenges? 
Harrington: We must take a collaborative all-hands-on-deck approach. There is a strong body of research showing patient outcomes are best when inter-professional teams work together. Our patients are begging for access to high-quality health care.
UofL News: Louisville is home to multiple aging care businesses and city leaders hope we can be innovators for improving quality of life for the growing population of older adults throughout the United States. How do you see your work (both in research and teaching) contributing to this effort? 
Harrington: Ensuring that all our primary care nurse practitioner graduates acquire the knowledge and skill to care for our older adults in the community and long-term care settings is my highest priority as a nursing educator. Disseminating content for student and practicing nurse practitioners on the most complex medical conditions will hopefully help them improve their patients' outcomes.
I and my medical and computer science and engineering colleagues also are working to change the most confounding social problems affecting older adults with Alzheimer's disease and their caregivers using artificial intelligence and innovative product design. This exciting research has substantial social and policy implications.
UofL News: As someone with decades of geriatric nursing experience, explain how your research has helped improve the health and well-being of family caregivers of those with Alzheimer's disease/Alzheimer's disease-related dementias (ADRD). 
Harrington: From the 30,000-foot perspective, the gaps are vast in every area of aging. Fifteen million family caregivers of those with ADRD and 12 million ADRD care recipients are potentially impacted by research and innovative practice models adopted by health care professionals. It is difficult to separate research in aging into disease-based categories because they are all interconnected. My defined program of nursing scholarship and creative activity focuses on older adults' and their caregivers' health disparities and power inequity in the context of heart failure, Alzheimer's disease and Alzheimer's disease related dementias, and ageism.

UofL News: What are some of your significant areas of geriatric research?  Describe for us some of the outcomes.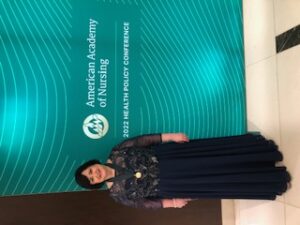 Harrington: Yes, in the context of the fellowship with the academy, there are several:
5 million individuals who reside in long-term care have heart failure. My innovative heart failure evidence-based guideline remains the only nurse-driven practice guideline of its kind since 2006, and has received national and international recognition through citations and inclusion of content. I created the ACE (Assess, Collaborate, Engage) Delirium Superimposed on Dementia practice model to improve how we approach delirium superimposed on dementia that impacts 20 million hospitalized older adults with ADRD yearly. That research recently published in American Nurse.
I believe education for quality health care for older adults requires a multi-prong approach that reaches health science students, health science professionals and families in the community. The possibilities for nursing innovation are infinite with inter-professional collaboration and begin with identifying the problems in care provision or care delivery. Redesigning the Medicare Annual Visit process for a 45 office Federally Qualified Health Centers (FQHC), prompted leading an inter-professional team in the development and production of an innovative desktop application for comprehensive geriatric assessment with custom reporting capabilities for FQHCs.
The outcome of the first population-based study of 1,500 older adults in eastern North Carolina identified family caregivers' need and desire for the knowledge and skill to be optimal caregivers for those with Alzheimer's disease. We also realized how unrealistic it is to expect farmers to lose critical daylight hours to seek preventive health care, so we connected them to AgriSafe nursing services who visited them on their farms. The population-based community research led to delivering person-in-context dementia simulation to caregivers as an educational method to improve their understanding of dementia and their family members' daily challenges and multiple educational workshops in collaboration with area agencies on aging.
Between 2015 and 2017, I conducted two research studies that successfully eliminated academic silos in inter-professional geriatric education. The outcomes were an innovative and sustained Two-As-One Preceptor Model and the Troika InterProfessional (TIP) Gerontology Education Model impacting over 300 third-year medical, primary care nurse practitioner and physician assistant students. The TIP outcome model was designed for a student team of three primary care professionals who learn and apply gerontology knowledge in a virtual clinic environment. All faculty reported students maintained proficiency in the content over time. These skills impact approximately 8 million older adults these individuals will serve when extrapolated over a 20-year career.
UofL News: What is the future of geriatric health care? 
Harrington: We currently have approximately 680,000 adults over the age of 65 in Kentucky. The majority of the state's counties, 81 of 120, are medically underserved. This void is compounded by many primary care physicians who are approaching retirement. Nurse practitioners are critical to the care quality of our older adult population and will remain critical for at least the next 30 years. Enacting legislation to remove the practice barriers and allowing nurse practitioner to practice collaboratively at the full scope of our educations, experience and training is growing more so each year. This is imperative to our ability to impact the wide-range of health disparities our older adults experience.