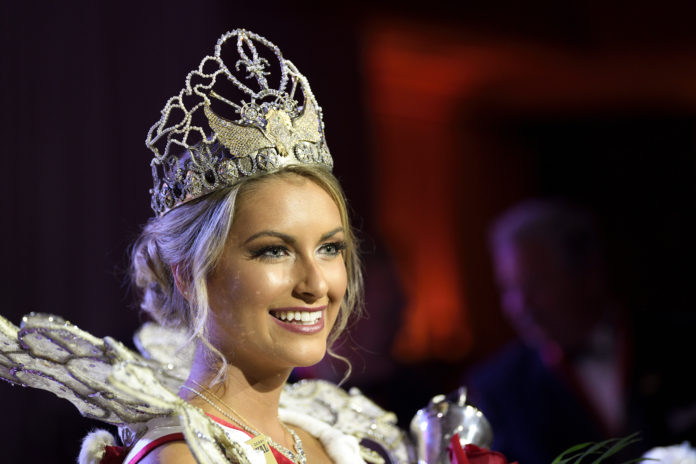 Natalie Brown, a senior Communication major at the University of Louisville, was recently crowned the 2017 Kentucky Derby Festival Queen.
Brown was one of five festival princesses who earn their spots through high scholastic achievements and dedication to service within the community. She won the crown on April 8 by a spin-of-the-wheel at the annual Fillies Derby Ball.
Brown, from Crestwood, Kentucky, decided to attend UofL when she received a full-ride from the Trustees Scholarship. She is active in Greek life and serves as a campus tour guide and an intern in UofL's Office of Communications and Marketing.
UofLNews had the chance to talk to Brown about why she embarked on this journey and the process of becoming part of the royal court:
UofLNews: What has been your fondest moment at UofL?
Brown: Getting to work under (director of Digital Media) Jeff Rushton, specifically getting to cover football games for the (OCM) department. We get to take the cameras and be down on the field and capture the excitement of the fans and the excitement of the games and it really is a unique experience as a student, not sitting in the stands but getting to be down on the field, and it's been my favorite part of college.
UofLNews: Least fond moment?
Brown: It's gotten a little trying, with all of the stuff going on in the media lately, especially since I'm a tour guide. You get questions about it, but just got to kind of take it in stride and remember why you love UofL so much.
UofLNews: Why did you choose to embark on this journey and become a KDF princess?
Brown: I really liked what I do as a representative of the University of Louisville as a student, and I wanted to expand that, and I know that the Kentucky Derby Festival Princesses represent not only the entire city of Louisville but the Commonwealth of Kentucky during Derby season. Also we work with a lot of kids and we promote education a lot. I love working with little kids; it's been my favorite part of the whole experience.
UofLNews: What were your favorite things about the process?
Brown: It's a really good experience. The first interview is a 5-minute interview and you do it in front of five judges so that's a really unique experience and interview opportunity. You won't do that a lot, so you have to make sure that you make the points you want to make and get who you are across to those judges to make it to the final round. This year it was really cool (because) one of the final judges was Monte Durham from "Say Yes To The Dress," so you got to meet him and get the experience of interviewing in front of a high profile client as well.
UofLNews: What surprised you about the process?
Brown: I felt a lot more comfortable than I thought I would in the interviews, especially the final round judges. They're all from out of state but they did a really good job of making the room a comfortable environment.
UofLNews: How do you want to change the world?
Brown: I think kindness is really important and just being a genuinely good person, making sure you treat others the way you want to be treated. It's an old rule but I think it's a quality rule and that's why it's stuck around for so long. That's something that I hope shines through in my everyday life, that's something that I hope to instill in my children as well. 
UofLNews: What is your favorite book?
Brown: Recently my favorite book has been "The Nightingale." It's a love story and a women's empowerment story, and a survivor's story all in one about the holocaust, so you get a bunch of different perspectives. It's really moving and the ending is not predictable, which is the best part, but also very upsetting.
UofLNews: Favorite restaurant?
Brown: I love to eat. I think my favorite one right now is The Eagle on Bardstown Road. They've got a fried chicken sandwich and mac and cheese … I will say this as a power move, The Eagle has the best mac and cheese in the city of Louisville. The fried sandwich is really good, too.
UofLNews: Do you have any advice for incoming students?
Brown: My biggest piece of advice is to keep going, to apply for things and if you don't get it pick yourself back up and apply for something else. I know a lot of students, especially if they were successful in high school, come to UofL and it's a much larger student population. So they apply for something and they don't get it the first time and they get super discouraged. Don't give up on yourself, keep applying for things, and find your groove in college.
Photo provided by Jonathan Roberts.