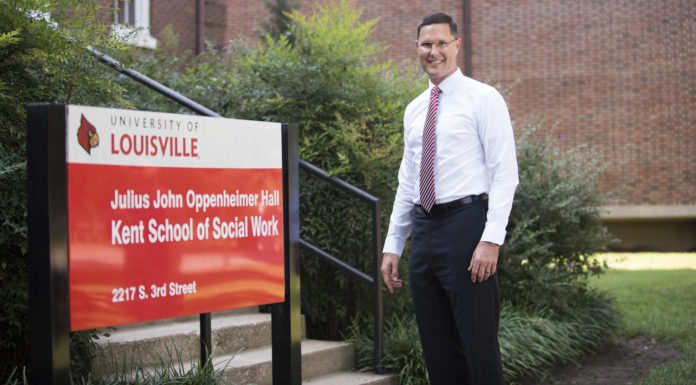 David Jenkins, PhD, LCSW, officially began his appointment as dean of the Kent School of Social Work in August. He previously served as the Social Work Department Chair and MSW Program Director at Texas Christian University.
He had also been a professor at TCU since 1991. Prior, Jenkins earned his bachelor's and master's degrees from LSU and his PhD from Florida State. His migration north to Louisville started because he knew faculty members and former dean Terry Singer, who encouraged him to apply for the open position following Singer's retirement. 
He was especially attracted to UofL's Couples and Family Therapy program, as well as the city of Louisville and its southern charm. 
UofL News recently had the chance to talk to him about macro trends in social work, as well as what differentiates the Kent School from other programs in the country. 
UofL News: How will social work education/priorities change in the coming years?
Dean Jenkins: We are in the middle of strategic planning as we speak. We are hoping to have a final product completed this summer. This plan will guide our priorities for the next several years.
UofL News: What are the biggest challenges facing the social work industry right now?
Dean Jenkins: I believe funding is probably one of our most constant concerns in social work. We regularly have to prove the worth of our programs and services to stakeholders. For example, elected officials often need a great deal of education about how social work, as a profession, works to improve our communities, our state, the country, and larger society.
UofL News: What programs or coursework, etc., differentiates the Kent School from other institutions?
Dean Jenkins: There a couple of programs and offerings that differentiate the Kent School from other institutions:
We are the only program in the country that houses a Couples and Family Therapy Program in the School of Social Work
We are the only program in the country that offers a specialization in psychosocial oncology
We offer seven different specializations in the graduate program with face-to-face and online options for students
Our undergraduate program offers a new concentration in Substance Abuse to better prepare our students for this type of work after graduation. 
UofL News: What has kept you personally involved in social work throughout your career?
Dean Jenkins: I personally care about social justice. Since there are always areas that need attention on the topic of social justice, there is always work to be done. Additionally, social work is an ever evolving field with a continually changing field of practice (humans and society). So, it remains a challenging field as we adapt to these changes. 
UofL News: How do you unwind when you're not working?
Dean Jenkins: Tennis and working out are two of my favorite activities for escaping the concerns of work (and life). I also enjoy movies and travel. 
Tune into UofL Today with Mark Hebert on Wednesday, April 26, to listen to a full interview with Dean Jenkins. The podcast will be available on SoundCloud.