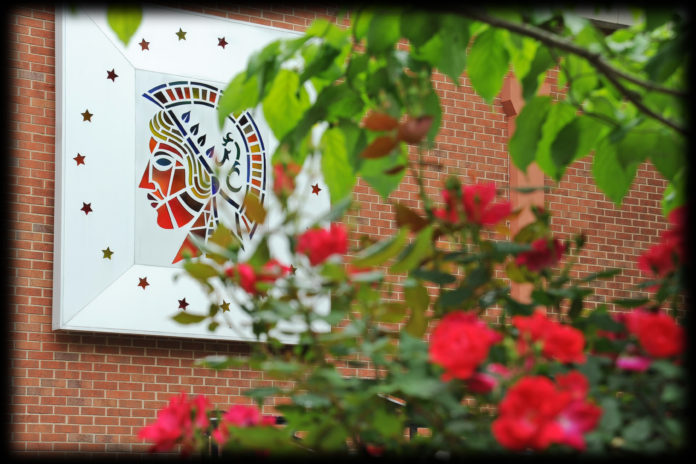 During Wednesday's Faculty Senate meeting, Provost Beth Boehm provided a number of updates, including a summation of the Council on Postsecondary Education's funding model that went into place at the end of 2016. There are essentially two parts to the model, including the establishment of the model through redistribution of allocable resources (equilibrium) and the calculation of each institution's portion of annual performance funding pool.
Metrics for component areas support key state goals for secondary education, including increased retention and progression, increased degrees, more degrees that earn higher wages (e.g. STEM), and increased degrees by minority, low income and underprepared students.
Fiscal year 2018-19 funding distribution included $9.1 million for UK, $2.5 million for UofL and $3.4 million for Eastern Kentucky. Boehm laid out UofL's opportunities to catch up, including:
Enroll and retain greater numbers of academically qualified, degree-seeking students
Encourage students to take full course loads (at least 15 hours) and provide services to help them
Increase graduation rates and produce more degrees, especially among underserved student populations or in areas of pressing state need
Beat sector averages while gaining share
There are five categories that UofL fell below sector averages weighted toward research universities – bachelor's degrees, STEM and health bachelor's degrees, low-income bachelor's degrees, student progression at 30 hours and URM bachelor's degrees. Also, Boehm noted some of the limitations and concerns, such as the facilities metric, which doesn't promote increased efficiencies in maintenance and operation.
Though much work needs to be done, Boehm said many of the metrics are in line with UofL's values, such as increasing STEM students. The truncated version of CPE's funding model is available online.
Boehm also provided a number of updates, noting that SACS will visit in December to reaffirm the university's accreditation for another 10 years. UofL is not on probation, but the university is in the middle of completing the 10-year review process, which was delayed last year due to probationary status.
The revenue target steering committee is meeting again and Boehm and CFO Dan Durbin serve as "heavy handed" ex officios. The enrollment committee is also up and running.
Boehm mentioned that she now oversees the Technology Solutions department.
"This should be good. Academics have been absent from any tech plans that have come up and we want to change that," she said.
The search for a chief information officer is underway, with three finalists identified.
Additionally, the executive vice president of health affairs position and the executive vice president of research and innovation position are both posted and are expected to be filled by July 1, 2019.
The administration is launching a committee to clean up/update the Redbook. Finally, Boehm has inquired about classes that have been canceled due to low enrollment and found that about 24 were canceled through Arts & Sciences, and nine were canceled in the School of Music.
"This might be a new reality, canceling low-enrollment classes," she said.
Todd Kneale, director of Total Rewards, provided an update on benefits, noting that health insurance rates will be increased in 2019 for the first time in five years.
Those monthly increases are:
EPO: 4% for employee only; 1% for employee/spouse/QA; 1.4% for employee/children; 1.2% for family. Employees covered in EPO represent 19%.
HRA: 4.3% for employee only; 2% for employee/spouses/QA; 1.4% for employee/children; 1.7% for family. Employees covered in HRA represent 20.7%.
PPO: 4.6% for employee only; 1.9% for employee/spouse/QA; 1.4% for employee/children; 1.9% for family. Employees covered in PPO represent 50.5%.
HRA: 4.6% for employee only; 2.1% for employee/spouse/QA; 1.5% for employee/children; 1.9% for family. Employees covered in HRA represent 9.8%.
As a way to offset the pain of these increases, HR the department is working with finance to implement a $14.48 kickback for those who make $36,000 or less. This would affect about 1,040 people.
Also, effective Jan. 1, 2019, new employees will have to wait 30 days before they receive benefits, and the two-employee family rate will not continue after Jan. 1.
The special guest was Dean Emmanuel Collins of the Speed School of Engineering. Collins was named to that position in April.
He said the Speed School is two-thirds the way of having a national reputation as a Tier I national research program and his job is get us the rest of the way. His two main principles are emphasizing staff and specialized teachers (term faculty).
"You have to make your staff feel like part of your system. If they're let out of the decision-making, it is not a good working environment. They have to feel integrated into that process," he said. "Also, we want to make sure the track for faculty progression is very clear. We can no longer run a modern engineering program with just tenure-track faculty."
In five years, he hopes to have a new engineering and science building, which will better enable the school to grow.
He also hopes to incorporate more accountability for teaching.
"K through 12 teachers require regular certification. My plan is to help our educators grow as well and to take advantage of our resources, like the Delphi Center, so that in five years, we are not only better researchers, but better teachers," he said.
In other news, Redbook changes to the school of Dentistry personnel document and School of Medicine bylaws were approved.
Angela Lewis-Klein provided a report from the Staff Senate meeting in September, in which members were given a tour of the SAC's renovations and informed of the extended (two-week) holiday break.
Krista Wallace-Boaz provided the chair's report, which is available in its entirety online. The board of trustees is now meeting quarterly and both the board and UofL Foundation board are scheduled to meet this month.
Wallace-Boaz also provided an update on the SACS accreditation. Finally, she provided an update on the Division of Operations reorganization. Operations, Business Operations and Planning, Design and Construction now report to CFO Dan Durbin. UofL Police and Technology Solutions now report to Provost Beth Boehm. Environmental Health and Safety now report to Ronda Bishop, VP of Enterprise Risk Management, Audit and Compliance.
The next Faculty Senate meeting is Nov. 7 at 3 p.m. in Chao Auditorium.