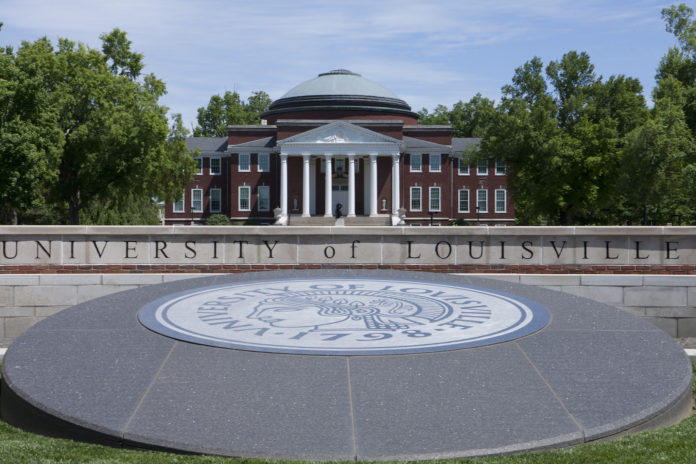 UofL's Faculty Senate met July 5 with Enid Trucios-Haynes noting in her chair's report that she has requested Faculty Senate representation on the UofL Foundation board.
Trucios-Haynes presented a statement of the executive committee for endorsement. It reads:
"The forensic audit of the University revealed significant issues regarding administrative transparency. The Executive Committee of the Faculty Senate continues to strongly encourage the University of Louisville Foundation to enhance faculty involvement in board governance by creating a permanent, ex-officio voting Faculty Representative on the Board of Directors. This increased faculty participation will strengthen the commitment to transparency and accountability of the Foundation's business. We believe that robust shared governance at the University of Louisville Foundation might have led to greater oversight because of the unique perspective and investment faculty have in University matters."
Trucios-Haynes put the endorsement of this statement up for a vote and it was passed unanimously.
She also said there are a number of RFP committees underway, including banking, print services and employee assistance program, and the faculty consultation committee to the presidential search held its second meeting last month.
The ad hoc budget committee also recently met for a second time to discuss strategic initiatives and the widespread impacts of the hiring freeze/frost. Trucios-Haynes said a major concern is the role faculty members play when there are less faculty available to teach, and the committee's priority is to ensure this does not become the "new normal."
Report, Dr. Dale Billingsley, interim EVP and Provost
Billingsley reported that the ombudsman search will conclude soon, and Dr. Bob Staat will continue in that role until Aug. 1 to ensure a smooth transition.
The Law School dean search has concluded and Colin Crawford will start Dec. 31. Professor Lars Smith will fill in until Crawford is on campus. Billingsley also reported that the Law School is expecting 150 students for the fall semester, about 60 more than last year.
The nursing and Speed dean positions have been posted and the goal is to have those searches underway in the fall.
SIGS Dean Beth Boehm and School of Music Dean Christopher Doan are up for the 5-year reviews.
Billingsley also reported that the Board of Trustees approved Redbook changes in its June meeting to bring it into compliance with SACS' expectations. The scope of SACS' September visit to campus has been expanded to address "financial stability issues," in light of the Foundation audit.
The budget advisory committee continues to review requests for general funds and is tracking all open positions to ensure UofL hits a $10M savings target. There are five areas exempt from the hiring freeze/frost:
Instructional impact
External compliance and internal policy
Safety and Security
Essential patient care
Contractual obligations
Billingsley noted there has been some confusion about funding sources, adding that general funds represent about 40 percent of the captures from attrition.
Enrollment is about 300 students behind this time last year – equating to about $3 million in revenue – though professional and graduate schools are doing well. Other institutions are reporting lower enrollment, too, with the University of Kentucky down about 7 to 8 percent.
"All of the incoming freshmen are excited and eager to be here. I'm hopeful that positive energy will be enough to overpower some of the negative stuff the staff and faculty are feeling," Billingsley said, noting that those feelings are justified given the current situation. "The enthusiasm is there, but people are perplexed. Hopefully the positive energy from the incoming freshmen will help sustain us through the hard times. The bad times will end."
Billingsley concluded his report by discussing his concern for the Trump administration's federal aid plan, which primarily targets PELL and SGO grants.
"This is the financial aid these students use to get out of the poverty cycle," he said. "If the budget does not change, we will have to adjust to reinforce the closing of that socio-economic gap."
Report, Lee Smith, interim COO, and Mark Watkins, AVP for Business Services
Smith reported that his department is tasked with helping to find $20 million in savings – $10 million of that from the operational budget and $10 million from procurement.
From the operational budget, Smith said a variety of opportunities have been identified, such as IT costs (for example, paying for licenses that were not being used), energy management and supply costs. There are a handful of RFPs in progress, including managed print and wired and wireless internet that should also trim costs.
For procurement, Smith said we spend about $320 million to external companies. He said we will recoup some savings en route to that $10 million goal in the next year by applying a 6-percent surcharge to procurement activity at units.
Watkins added that there are 10 prioritized areas to find procurement savings, including computers, software, furniture, catering services and more.
"Our $3.2 million catering services bill is dispersed through many providers. The goal is to get that down to six preferred caterers," he said, as an example.
A task force has been created to help with this initiative.
An extensive Q&A followed their report, with many expressing concern over the "procurement tax." Smith said, "Our judgement is this is the best path forward for us right now."
Dr. Greg Postel, interim president
Postel opened his PowerPoint presentation by stating that there is so much going on right now, "I don't think it's a time when over communication is possible."
His first slide provided an overview of the UofL Hospital/James Graham Brown Cancer Center management transition, which was completed without incident July 1. Postel said 2,500 employees now work for UMC, which has a "strong" balance sheet and a balanced budget. Also, employee enthusiasm and engagement over the transition is "profound."
"There were a number of people outside cheering when they were changing the signs. They're excited about the opportunity to manage their hospital," he said. "This is a real economic engine for the University of Louisville. This is one example of how to bring into our control and asset and a growth opportunity versus a cut."
Postel provided a quick overview of the four construction projects underway – Belknap Academic Building, Swain Center renovation/expansion; Pediatric Medical Office Building; and Papa John's Cardinal Stadium.
"I'm most excited about the academic building. It will include all of the things that go into making sure our students excel," he said.
All projects remain on track for completion about a year from now.
There are a number of appointments and searches underway:
CFO, national search underway
CAO, position will not be refilled
COO, proposed internal search
AVP HR, an interim appointment will be followed by a search
VP for advancement, an interim appointment will be followed by a search
VP for community engagement, an interim appointment will be followed by a search
HSC CFO, complete
Director of the James Graham Brown Cancer Center, complete
Brandeis School of Law dean, complete
School of Nursing dean, national search to start in the fall
Speed School dean, national search to start in the fall
Ombudsman, search concluding
Postel provided an update to UofL's SACS accreditation status, noting the leadership had an "excellent" meeting in June with SACS. Postel and a few other administrators are going to visit SACS in Georgia to talk about anything extra the university can do to ensure the September site visit is successful.
"It is a way for us to be proactive and for us to get our faces out there," he said.
One of his biggest concerns is the financial stability of the university.
"SACS will want to see that we have a balanced budget. This institution has not had a balanced budget in years and they're going to make sure we're sticking to this. I'm very focused on this. "Now is not the time to be lax on expenses and revenue," Postel said.
Postel said he has received a lot of feedback from donors and members of the public about the recent NCAA ruling about the men's basketball team.
"There were four sets of findings and they were not appealing. This is a bad story and we're not making excuses," he said.
UofL is appealing two of the penalties: vacation of wins/titles and financial claw back from conference proceeds.
"It's hard to find precedent with these penalties. We are appealing these two with a 'non-emotional' justification. We feel that there were errors made in the way these penalties were decided. Some of the players ended up not even playing for UofL, for example," Postel said. "We have to balance being fair but accepting our punishment."
The appeal process will run at least until the fall, when the next hearing is scheduled.
Postel said there is not much to update on the UofL Foundation's forensic audit. The board of trustees continues to study the report and a detailed discussion will take place at the next board meeting, July 20. This, he said, will kick off additional conversations.
The Jewish Hospital/Frazier Rehabilitation Center are on the market. These are KentuckyOne Health's largest facilities and UofL owns the ground and much of the programming that takes place there (about half of the admissions).
"We're trying to understand what we can do that produces no-to-minimal risk for the university but is in the best interests of the community because these facilities provide a big safety net for many, many people," Postel said. "Two of the three busiest ERs in the city are for sale and as a service we can't look away, but we can't do something at the peril of the university."
Finally, UofL will "reassess" the current, "extremely conservative" budget in the fall to see if we can change strategies.
"Will we have to be as harsh about hiring? Procurement? We should be able to know more by then. Nothing is going to be easy or popular," Postel said. "But we are busy trying to make this as painless and short term as possible. I am also confident we are going to have donors back again and soon. We're all in this together."
There is no Faculty Senate meeting in August.