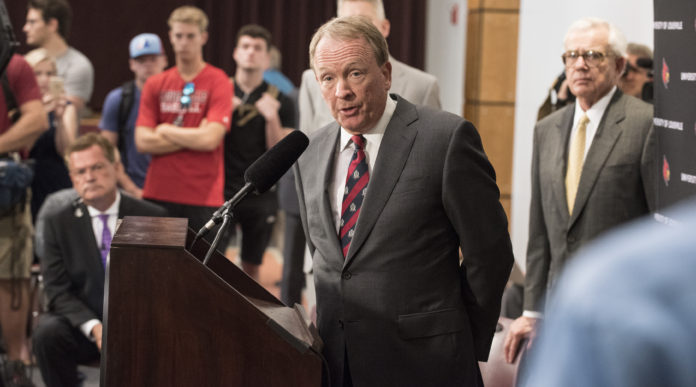 Dr. Greg Postel, interim president, provided an update to the Staff Senate Monday on the HSC campus. Postel told senators that the university's executive positions are expected to all be permanently filled by the fall.
According to Insider Louisville, Postel's term began with 19 top academic and administrative positions filled with interims. That number is down to eight, not including Postel's own role or any athletics positions. 
Postel said UofL hopes to name a new AD by the end of March or early April, which is at least a month before a permanent president is expected to be chosen. Once an AD is in place, a search for a men's basketball coach will take place.
Other roles expected to be filled soon include dean of the Speed School of Engineering, dean of the School of Nursing, the head of health affairs, research and innovation, HR, communications and marketing, and advancement.
Postel also provided an update on the campus climate survey. Both the 2014 and 2017 surveys have been released so employees can all see the issues that must be addressed. Dr. Mordean Taylor-Archer is undertaking the development of an Action Plan and will host a series of forums around the survey to gauge the work that needs to be done.
Finally, Postel discussed where we are in the budgeting process, noting that February's budget forums provided an abundance of information on priorities and how to improve. The budget survey yielded 1,699 respondents and hundreds of narrative comments, he said. 
Other budget considerations include: CPE's decision on tuition caps; recommendations from the Tuition and Fee-Setting Task Force; some kind of raise for employees; a matching pool of funds for deferred maintenance; and, the potential of another round of state appropriations cuts. All these pieces must come together by May to be presented to the Board of Trustees.
John Elliott, interim VP for HR, introduced Todd Kneale, director of Total Rewards. Kneale provided updates: an audit of the  FLSA determinations will be conducted by an outside source, the JDF process is being reviewed, a committee is being constituted to oversee the administration of UofL's retirement plan and his 2019 objective to launch a Total Rewards study.
Dr. Joseph Han, UofL's new COO, was introduced to the senate. He began his role two weeks ago, and said the operations unit is working on a 5-year plan that includes making data-based decisions, improving communication within units and getting staff involved in decisions.
The Vice Chair's report is available online. 
Credentials and Nominations provided a list of seats expiring in 2018, available online. Also, Senators John Smith and Marian Vasser were elected to the Presidential Search Committee. Senator Sandy Russell has been placed on the Retirement Committee.
The Policies and Economic Development Committee put the telecommuting policy up for a vote to present it to leadership and it was passed unanimously. The purpose of the policy is to meet the changing needs of a diverse workforce. The entire policy suggestion is available online. 
In other reports, no grievances were filed to the Staff Grievance Committee within the past month, and no applications for SHARE assistance have been submitted. An article highlighting the SHARE program was published in February on UofL News and is available online. 
According to the treasurer's report, the Staff Senate SHARE account has an uncommitted balance of $16,910.27; the Staff Senate operating account has an uncommitted balance of $5,073.77. The Staff Morale and Community Outreach Committee reminded senators about the UofL Day of Service, which is April 13 and 14.
The next Staff Senate meeting is April 9, 2:30 p.m. at Ekstrom Library's Chao Auditorium.