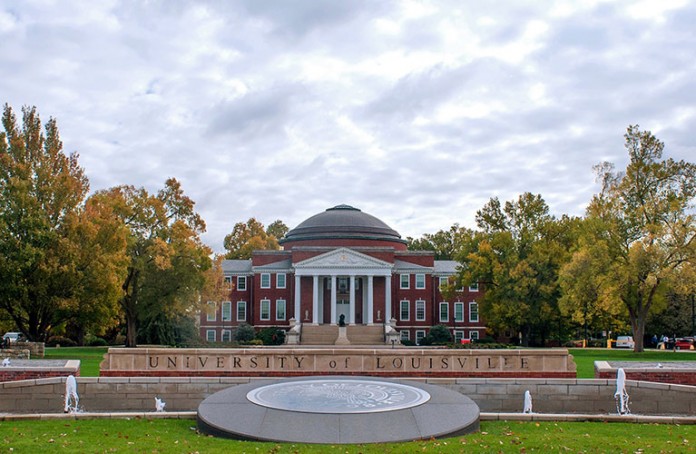 Faculty Senate met virtually on May 6 and they were joined by President Neeli Bendapudi, Executive Vice President and University Provost Beth Boehm and Executive Vice President for Research and Innovation Kevin Gardner.  
President Bendapudi focused her report on university updates around issues of racial inequity. 
"What a time it has been hasn't it? We all were dealing with COVID-19 and figuring out what to do and then an epidemic that has been around a long time also came to the surface, and that is of course the systemic racism that we experience, and we see."   
Bendapudi shared national statistics on racial inequity and said the university is pledging to take on an anti-racist agenda that tackles issues of systemic racism. 
"I'm calling this our year of accountability," she said.    
In her recent meeting with the Black Student Union, students requested that the university change the name of the Honors House and that UofL divest from Louisville Metro Police Department.  
Bendapudi explained that she did not realize the Honors House was still called the Overseers Honors House and she asked Chief Operating Officer Mark Watkins to immediately take action. Watkins painted over the sign and an official name change and sign replacement will take place after board approval.   
Bendapudi reminded senators that over a year ago, she also noticed that the university advisors to the president were called the Board of Overseers. She requested at that time for the name to be changed due to the term "overseer" having historical ties to slavery. The group is now called the President's Council. 
With regard to divestment from LMPD, Bendapudi explained that as an urban university it would not be possible. Multiple city streets intertwine with university campuses, especially the Health Sciences Center and Shelby campuses. She clarified that the University of Louisville Police Department does not have any written contract or formal partnership with LMPD. ULPD does, however, rely on LMPD officers to provide assistance with security and traffic control at athletics events, for example. The university will look into ways it can reduce that need over time.    
There are more initiatives happening across the university to advance UofL's anti-racism agenda. Chief of Police Gary Lewis will ensure that ULPD is the lead law enforcement body for any investigation dealing with a member of the university. He is also leading a plan to ensure all ULPD officers undergo training that has input from faculty, staff and students. An academic equity audit is being led by Cherie Dawson-Edwards, chair of the Department of Criminal Justice. The audit will entail a thorough review of curricular content that identifies strengths, deficits and opportunities to improve Criminal Justice education around social justice priorities. Many LMPD officers are enrolled in UofL's criminal justice courses. 
Detailed descriptions of actions being taken can be found in Bendapudi's letter to the Black Student Union.
 
A few senators expressed their concerns about nontenured faculty of color needing more support and that there should be visible demonstrations of the university's commitment to black faculty.  
Bendapudi agreed that the university must do more. She shared that she and other local college and university leaders have committed to finding solutions to end racial inequity. This written commitment can be found online.   
Provost Beth Boem shared that she has strongly supported leadership development opportunities for faculty of color. She hired two executive positions last year that were filled by people of color—the Dean for the School of Music and the Chief Information Officer. Additionally, three of the five people registered for the ACC leadership development programs this year were faculty members of color.  
"I really believe it's important for us to recruit and retain faculty of color and I am sorry whenever we fail to retain," she said. The Faculty Diversity Update Presentation from last year can be accessed online. Provost Boehm will provide an updated report at the next Faculty Senate meeting.  
Boehm shifted her report to address the Pivot to Fall draft plan provided in her recent email.   
"What we have [in the plan] is a hybrid model and one that seeks some kind of capacity to start one way and shift if we need to," she said.   
   
Some senators expressed concern with asynchronous learning plans and a discussion followed about the pros and cons of the hybrid learning model. Boehm answered questions and encouraged senators to continue submitting feedback. The Pivot to Fall Coordinating Committee will utilize feedback to reshape the plan for fall.     
EVPRI Kevin Gardner shared the ways in which research work is slowly reopening. Regular research town halls are being facilitated and they are open to the entire university community. The research Grand Challenges as part of the strategic plan are being moved forward. The three challenges include: empowering our communities, advancing our health, and engineering our future economy. Gardner emphasized these are critical issues for the university and he plans to advance those challenges over coming months.  
   
Faculty Senate Chair Krista Wallace-Boaz reported that Faculty and Staff Senates are expanding their standing executive committees to form a COVID-19 Advisory Committee to Faculty and Staff Senate leadership. Once confirmed, membership will be posted on the Faculty and Staff Senate websites.
The Redbook Committee had their second reading of the University Libraries revised bylaws and personnel documents. Also, the Academic Programs Committee presented two certificate proposals: Human Resources Leadership and AI in Medicine. Both Libraries documents passed and both certificates passed.   
Committee reports and a video recording of the virtual meeting can be accessed on the Faculty Senate meetings webpage.  The next Faculty Senate meeting is scheduled for July 1 via video conference.