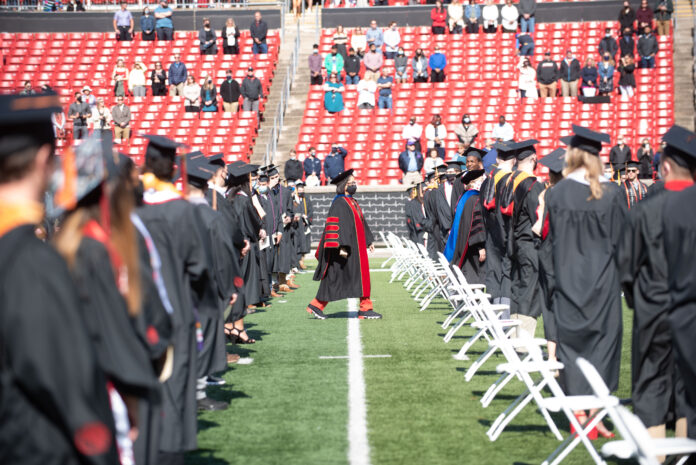 Plenty has changed since those first headlines emerged about the COVID-19 pandemic just over a year ago.
For starters, we now know more about how to control this relentless virus and we have vaccinations available, which has started to create a semblance of normalcy. Still, there remains plenty we don't know; for example, what changes will stick around in our "new normal."
For UofL President Neeli Bendapudi, that will be defined in part by a reflection on the nature of work.
"One of my mentors once told me work is what you do, not where you go. I think that applies here – it's important that we have some reflection on what needs to be done and where," she said. "It is validating that our faculty, staff and students want an in-person experience again, but how we do it will be interesting."
At this point, she'll take "interesting." It's certainly progress from where we were in March 2020 – when dozens of UofL administrators met frequently, sometimes daily, to develop a plan around a moving and blurry target. Bendapudi recalls several discussions from those early days, including whether or not to go completely online.
On March 11, 2020, she sent a campus-wide email announcing the extension of spring break and that classes were to be delivered virtually through April 5.
"I saw enough from our researchers to take things completely online and others had not made the call yet. I do think that's when others started to look at it more critically," she said.
Indeed, they all followed suit. And as the virus proliferated, the online model continued through the duration of the spring semester and even spring commencement was delivered virtually in an effort to keep our community safe.
That's not to say it was an easy decision, however. There was criticism from plenty about whether it was necessary.
While classes went virtual, UofL intentionally left its residence halls and dining options open for students who simply had nowhere else to go. There was criticism from plenty for that decision as well.
How often we would administer tests was criticized, budgeting decisions were criticized, the pace of decision making about the fall semester was criticized – everything. Bendapudi said that's simply the nature of being in charge of a major metropolitan institution.
Throughout those dark and challenging early months, she tried to maintain a steely resolve, but the criticisms from people claiming there were financial decisions at play were often too loud for her to ignore.
"It wasn't as though you made one decision and lived with it one way or another," she said. "Those early days were a series of decisions and what is the right call to make changed constantly. It is an interesting case study. What was also interesting to me is how to balance good science with what gives people comfort."
Fortunately, UofL has the benefit of being a Carnegie-designated Research I institution and therefore having a baseline of that "good science." The institution also has the benefit of being a member of the ACC and leveraging researchers across the conference, which Bendapudi said was "hugely helpful."
She also acknowledges the fortuitous timing of UofL Health system's November 2019 acquisition of KentuckyOne's Louisville-area assets.
"No one knew how much that system would be desperately needed. Where would all of those [COVID-19] patients have gone? There was no capability to handle that," she said. "I am proud and grateful we were the ones leading on testing for our area hospitals. I am proud of our entire health care system."
She's also proud of our all-hands-on-deck efforts put toward fighting the pandemic – from engineering to nursing to public health. Throughout the past year, UofL has produced 3D printed face shields, filled gaps in test kits, launched decontamination programs, led a community-wide tracing study and so much more. 
"All of this shows how we truly are a community-engaged, innovative university," Bendapudi said.
That's not to say having so many experts on hand wasn't without its challenges. Bendapudi likes to lead with a "big table" approach, pulling in as many perspectives as is manageable. So many voices can complicate things, however, particularly in a crisis environment.
This also made her realize there is an even bigger opportunity for leadership development, specifically coaching people who are frontline managers to feel comfortable making tough calls.
In fact, the past year has made Bendapudi re-think her priorities in general, focusing more deeply on family, friends and health, and making sure the UofL community has sufficient resources in place to do the same. These priorities came to light not just because of the pandemic, but also because of the incendiary political landscape and global protests against racial injustice, including an intense local focus on the death of UofL Health employee Breonna Taylor.
"The 'what could we do, what should we do' questions were constant when considering the mental stress of being a college student during these times. Our students should be exploring and being around other people, but they couldn't," Bendapudi said. "This generation was dealing with incredible pressures before all of this happened and we are going to have to really focus on their mental health needs because of what they've been through."
Those needs will be one of her priorities as we gear up for a return to campus for the Fall 2021 semester. That return is something Bendapudi is looking forward to. She's also optimistic that the toughest lessons learned throughout this past year have made us a more resilient and unified community.
"I am excited about campus coming to life again and I am optimistic we are all more aware that our health depends on each other, that we have a shared fate, and that we should and do care more about each other," she said. "I hope that awareness, that empathy, sticks around. That is how we best function as a Community of Care."