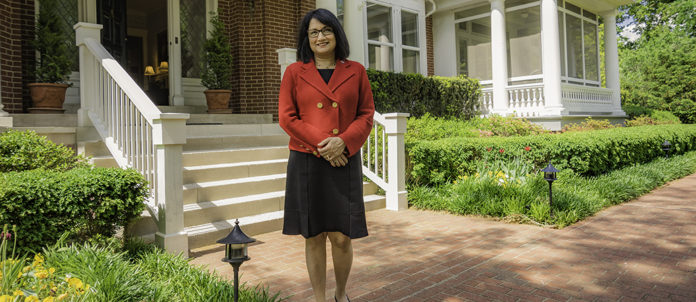 The University of Louisville Board of Trustees at its July 15 meeting presented a glowing review of President Neeli Bendapudi that recognizes her for achievements during the past year, including successfully leading UofL through the COVID-19 pandemic.
"We continue to be very impressed by and grateful for Neeli's leadership of the University of Louisville," said Mary Nixon, chair of the UofL Board of Trustees.
Nixon enumerated some of the accomplishments that have occurred on Bendapudi's watch:
Stabilizing UofL's financial position, improving its credit outlook and shifting resources to advance the strategic plan
Setting a record of $170 million for research funding and articulating the Grand Challenges that will further focus the university's energy
Attaining the highest UofL enrollment in decades in the fall 2020 semester
Building a strong internal leadership team including two recent hires, Provost Lori Gonzalez and General Counsel Angela Curry
Attaining steady progress on the strategic plan with the creation and expansion of services in the Employee Success Center, the launch of a brand campaign and web improvement project, a concerted focus on experiential learning and more.
Successfully implementing the acquisition of the former KentuckyOne Health assets to create UofL Health, leaving the university in a stronger financial position and expanding health care services into more areas than before including the medically underserved area of West Louisville
And in response to the single greatest public health crisis of our lifetimes, the global COVID-19 pandemic, UofL under Dr. Bendapudi's leadership:

Transitioned seamlessly from in-person to online instruction in a matter of days
Took care of the on-campus population with continued housing and dining services for thousands of students
Provided COVID-19 testing, vaccinations to our UofL community and more broadly to Kentuckiana through UofL Health
As a result of the positive evaluation, the board recommended approval of a new compensation structure that effectively combines Bendapudi's current salary and bonus. Her proposed five-year contract, which would begin July 1 of this year, provides for an annual salary of $875,000 and includes other terms that are on par with presidential contracts at other research universities throughout the U.S., including life insurance, athletic tickets and other items. Bendapudi also would receive a one-time payment of $150,000 on or before Sept. 15 as an adjustment to her base salary for services rendered between July 1, 2020, and June 30, 2021. Bendapudi earned $725,000 in salary in 2020-21.
The trustees also proposed a five-year retention plan that will pay Bendapudi $200,000 per year if she remains with the university. The annual payments will begin at the conclusion of each year, beginning July 1, 2022.
"When she became president in 2018, Neeli accepted a smaller salary than her predecessors and many of her peers, saying she felt she needed to earn the compensation," Nixon said. "While she did not approach us about a raise, she has clearly earned it."
The board voted to delegate authority to its executive committee to complete Bendapudi's new contract by the end of July.
"This compensation structure does not increase her base salary but merely transitions contingent items to her base salary. The retention tool and the other items also put her on par with other university presidents," said Nixon, stressing that Bendapudi's growing national reputation makes her an attractive candidate for other jobs across the country.
"Neeli is a superb leader, and we value her. We want to keep her at the helm of UofL for years to come."
In other action, the board:
Elected the following officers for 2021-22: Mary Nixon, chair; Raymond Burse, vice chair; Diane Medley, treasurer; Scott Brinkman, secretary; and Jake Beamer, assistant secretary. In addition, the board appointed Jim Rogers and Ugonna Okorie, Student Government Association president, to the Executive and Compensation Committee.
Ratified the Executive and Compensation Committee approval of the 2021-22 operating budget
Approved the president's recommendation to award a one-time $1,000 bonus to full-time faculty and staff and a one-time $500 bonus to part-time faculty and staff