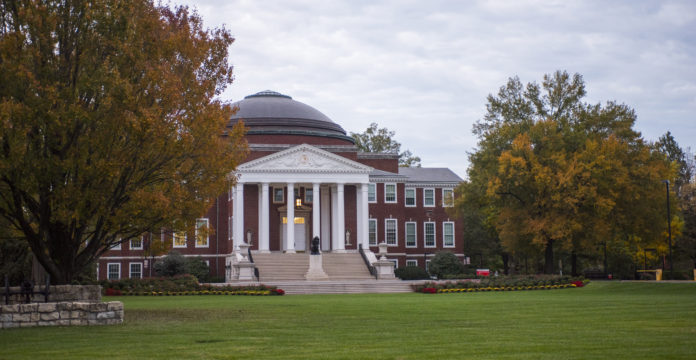 President Neeli Bendapudi provided an update on last week's SACS on-campus meeting, stating it "went as well as it could have gone." The accreditation body's visit was routine, but with UofL's probationary status throughout the past year, it was important to show SACS officials that those issues have been resolved.
Bendapudi said UofL's cash on hand status has been a concern, but credited CFO Dan Durbin and his team for making up some ground. SACS' response is expected next week and if it is a good report, UofL will not have a major review for another 10 years.
"SACS told us this is the most transparent and thorough report they've received. We were upfront with them because there is no other way," Bendapudi said. "I'm optimistic."
The president also provided an update on UofL's strategic planning process. A website is now live asking employees for their input on what needs to be included in the plan to make UofL a great place to learn, work and invest. Bendapudi reminded senators that it is also important to increase our focus on research.
"We have a great opportunity to be an urban research university but we have got to increase our research productivity," she said.
From January through June, more details will emerge on the timeline, metrics, etc. that will go into the strategic plan.
In other news, a search will be underway in January for an EVP of research. The goal is to have someone in place by fall 2019.
The EVP for health affairs search has been paused because of ongoing issues on the HSC campus.  
"The HSC campus is a great point of pride, but there are financial implications and the losses and challenges can be impactful for the rest of the university. We're trying to figure out how we handle Jewish Hospital (closing)," she said. "I can assure you there are a lot of good people doing a lot of good for the university with these issues, but until we have more clarity, we're going to wait (on the EVPHA search)."
Bendapudi also noted that she is continuing to work on streamlining reporting lines so we're better able to function as a university "as a whole."
"In the past, we've had each leader making decisions that were good for their unit, but perhaps not good for the university as a whole, so we're working on reporting lines and trying to bring us all together, including athletics and HSC," she said.
Bendapudi reassured faculty senators that the Bobby Petrino buyout did not include "one penny" from the academic budget.
"I'm very pleased with the financial checks we're putting into place," she said. "It's also important that we are bringing people in who understand the big picture – that it's not a win-at-any-cost mentality."
Finally, Bendapudi noted that UofL is making progress in fundraising.
"I feel much more optimistic today than a month ago. I am confident in the team we're putting into place," she said.
As far as fundraising goes, Brad Shafer, interim VP for University Advancement, said he is working to correct some major issues in the department, including lack of resources.
"There has been significant dysfunction in the advancement office and lack of activity," he said. "For a university our size, we should have 70 to 75 development officers. When I came on board in July, we had 13."
Shafer said donors are telling him that they're not going away, they're just waiting for conversations to happen again. Under his leadership, corporate foundation and planned giving is moving under a central function, and he is also adding six areas that didn't previously exist, such as parents, international and women's philanthropy.
"Phase one is filling out the leadership team so that every college has at least one senior development officer. Phase two is filling out those teams; so the Speed School, for example, should have four to five people," Shafer said. "Phase three, we're fully staffed for a capital campaign. Hopefully that will start in the next two years."
Shafer would like to add development seminars that educate and coach faculty and staff on how to help with the fundraising process.
Provost Boehm also provided a report, reiterating how positive the SACS visit was. There are two searches underway, including School of Music dean and CIO.
Boehm said UofL's participation in the Powered by Publics program, announced last month, is aimed at improving college access, closing the achievement gap and helping students earn a degree by 2025.
"We are going to focus on evidence for retention and success versus throwing everything at the wall and seeing what sticks," Boehm said.
A committee has been formed to clean up the Redbook. Boehm said this hasn't been done in about eight years.
"We need a clean set of policies to govern us," she said.
The meeting opened with a memorial to Dr. Thomas Crawford, a chemistry professor who passed away on Nov. 1.
"He taught me every good thing I know about administration work," said Professor Dale Billingsley.
Krista Wallace-Boaz provided the chair's report, noting that Faculty Senate leadership will begin work with HR and possibly the ombudsman to create a "toolbox" for faculty members through mini trainings. Some of the topics will include academic bullying, having difficult conversations and mentoring.
Provost Beth Boehm has also asked the Faculty Senate to explore ideas regarding faculty/student mentorship program. The chair and vice chair, along with a subcommittee, will develop initial ideas for the program, aimed at improving retention rates. Wallace-Boaz also reminded faculty senators to recognize signs of students who may be in distress, providing a link that offers resources to help. 
There were two Redbook items, including the first reading of revised unit bylaws for the Kent School of Social Work, and the second reading for revised unit bylaws for the School of Public Health and Information Sciences. The SPHIS changes were approved.
The SGA approved their budget and met with Provost Beth Boehm recently to work on retention initiatives. The group is also working to extend feminine hygiene products to all bathrooms across campus.
During the Staff Senate's November meeting, John Elliott, VP of HR, provided an update on two policies that are under review, and noted that the university's compensation process is dated and the office is working to update those. Staff senators also heard from Bob Knaster, executive director of Auxiliary Business Services, about the transition to Canon print services, and Police Chief Gary Lewis about his safety initiatives. The full Staff Senate report is available online. 
Reports from the Academic Programs, Redbook and Bylaws, Planning and Budget and Human Resources Advisory committees are available online. The Faculty Athletics Representative report is also available online.
The next Faculty Senate meeting is Jan. 9 in Chao Auditorium from 3-5 p.m.