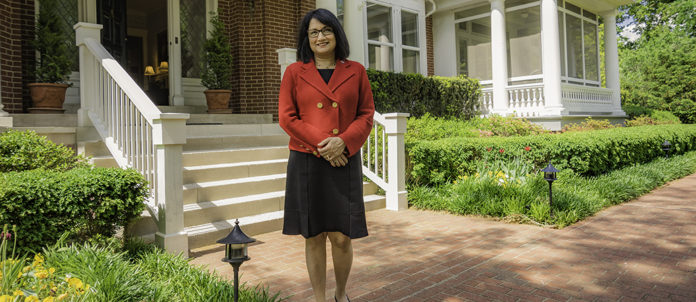 UofL President Neeli Bendapudi is among 22 local women have been recognized by Louisville Business First as part of the publication's annual Enterprising Women program. 
The program recognizes women who "are making a difference in business and in the community." This year's honorees demonstrated the following characteristics:
Community and civic engagement
Business management
Mentoring
Inspirational leadership
Volunteerism
Entrepreneurship
Innovation
Executive leadership
More than 100 nominations were submitted. 
Other 2020 honorees include (alphabetically): 
Karina Barillas, executive director, La Casita Center; Deborah Benberry Williams, vice president, PNC Bank;Wendy Dant Chesser, president and CEO, One Southern Indiana; Melanie Cook, COO, GE Appliances; Sarah Davasher-Wisdom, CEO, Greater Louisville Inc.; Erica Fields, president, Brooks Grain; Shelly Gibson, chief legal and people officer, Thorntons LLC; Mariah Gratz, CEO, Weyland Ventures; Elaine Gravatte, president, DDW Inc.; Cassia Herron, director, Louisville Community Grocery; Olivia Kirtley, founder, Kirtley and Associates; Cynthia Knapek, president, Leadership Louisville Center; Gladys Lopez, chief human resource officer, Norton Healthcare Inc.; Kim Mascaro, vice president, Confluent Health; Janet Norton, vice president, Baptist Health; Theresa Reno-Weber, CEO, Metro United Way; Lesa Seibert, CEO, Mightily; Grace Simrall, chief of civic innovation and technology, Louisville Metro Government; Melinda Sunderland, partner, Morgan Pottinger McGarvey; Cynthia Torp, president, Solid Light; Jennifer Willis, vice president, Humana Inc.
Honorees will be recognized in a special Louisville Business First publication Feb. 21 and at an awards celebration April 23 at the Kentucky International Convention Center.