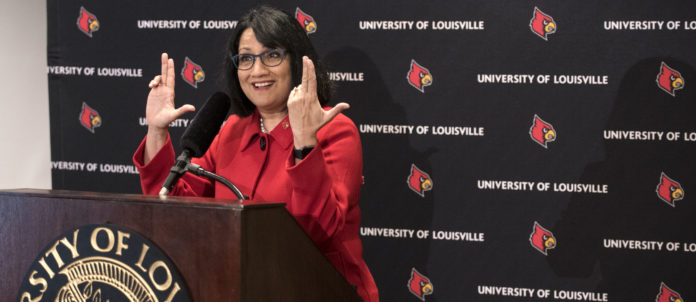 The University of Louisville has named Dr. Neeli Bendapudi as its 18th president.
Bendapudi joins UofL from the University of Kansas, where she spent the past two years as provost and executive vice chancellor. She previously served as the Henry D. Price Dean of the School of Business at Kansas since 2011.
Bendapudi was formally introduced after a months-long nationwide search that attracted more than 50 candidates nationwide. The UofL Board of Trustees approved her appointment at a special meeting Tuesday. Her anticipated start date is May 15.
During a press conference, she outlined her priorities:
Making sure UofL is a great place for students to learn.
Making sure faculty and staff view UofL as a great place to work.
Making sure the community views UofL as a good place to invest.
Bendapudi also provided a glimpse into her leadership style, stating that she intends on fostering a culture of openness and trust – a culture "you will want to protect" – and she hopes to be "incredibly accessible."
She added that UofL will celebrate diversity in all of its forms.
"We will be a place that is dedicated to fostering equity. No matter who you are, when you walk through these doors, you are a part of the Cardinal family forever," she said.
Bendapudi stated her intentions of being here for a "long, long time," and said she was very attracted to the city and the university.
"What would not attract me to Louisville? It is diverse and vibrant. There are dedicated faculty and talented staff. There are students that have clearly impressed," she said. "Our location is unbeatable – the food, the music, the art scene, the sports. We have it all."
Some of Bendapudi's former colleagues and students from Kansas chimed in on Twitter about her hire, indicating the type of impression she left in Lawrence:
"Neeli is absolutely amazing. She cares so much about students here at KU and in every interaction I've had with her she's been so genuine. I'm so sad to see her leave KU but I'm glad she's getting the recognition she deserves," Katherine Riedel tweeted.
"I've been affiliated with KU in some form for 31 years and would be hard pressed to name a Jayhawk who represents us better than (Neeli Bendapudi). UofL got a good one!" – Nick Kallail
"While it is a tremendous loss for KU, I am immensely pleased and excited to see (Neeli Bendapudi) become the first female president of UofL. Neeli, your transformative leadership impacted thousands of Jayhawks and will do so for generations to come. Rock Chalk!" – LeAnn Meyer
Additionally, Kansas Chancellor Douglas A. Girod said in a statement that Bendapudi has been integral to many of KU's most important initiatives.
"As provost and executive vice chancellor, she has prioritized retention and graduation rates, faculty and staff development and our university's commitment to diversity and inclusion. In (her role as Business School dean), she partnered with KU Endowment to raise $198.6 million in total gifts, oversaw an expansion of the school's academic programming, and guided the school to gains in national rankings.
"Beyond these specific efforts, Neeli brought unmatched enthusiasm to her work – the kind of enthusiasm that was contagious and inspired those around her."
More background
Before her tenure at KU, Bendapudi taught at The Ohio State University's Fisher College of Business, where she had risen from assistant professor in 1996 to full professor in 2008. She was also an assistant professor of marketing at Texas A&M University.
Before joining the academy, Bendapudi served as executive vice president and chief customer officer for Huntington Bank in Columbus, Ohio. She has consulted with many national and international companies, including Cardinal Health, Cessna, Cintas, Nationwide Insurance, Procter & Gamble and Wendy's.
Bendapudi, 54, is married to Venkat Bendapudi, senior lecturer in KU's School of Business. Their daughter, Sirisha, and son-in-law, Kyle Ladd, live in Chicago. Additional biographical information, including a CV, is available at Louisville.edu/presidential-search.
Check out some of Bendapudi's press conference below: