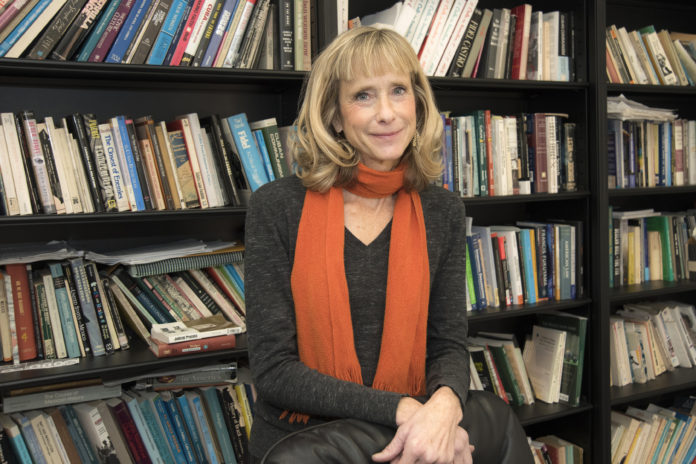 Julie Bunck writes a lot of convincing recommendation letters for her students, whether they are seeking a Fulbright award, other international travel opportunities or admission to law or graduate schools. So it only seems fitting that the nominations of students and former students, along with her own distinguished teaching credentials, helped earn her this year's Trustees Award.
The award honors extraordinary impact on students, and the political science professor will receive it during the Dec. 15 commencement ceremony.
Helping students succeed is quite a motivator. "It's my great joy," she said.
A UofL faculty member since 1994, Bunck was named a distinguished honors professor in 2002 and now mostly teaches honors classes. Her areas of expertise include Latin American politics and international relations, but her student nominators attest to learning much more from their mentor and role model than her subject material.
They refer to her infectious enthusiasm, motivational approach, intellectual discussion, high expectations, career advice and moral support. Several cite Bunck's generosity with her time and expertise outside the classroom time and office hours, offering advice on papers, presentations, applications and interviews.
She also supervises many honors or master's thesis projects and serves on numerous committees to select university award recipients and entrance into programs such as the McConnell Scholars.
A three-time Fulbright scholar herself in Mexico, Japan and Central America, Bunck twice has been a visiting professor for Semester at Sea study-abroad voyages that went to a total of 24 countries. She has been a visiting lecturer for months in Vietnam and taught in Australia and Ecuador.
These international experiences encourage academic growth for professors as well as students and bring credibility to her UofL classroom discussion and approach.
"You come back and the way you think about teaching changes," she said.
Bunck encourages students to study abroad and to apply for the scholarship programs and other funding opportunities that can make those horizon-broadening, life-changing opportunities possible. Many of those winners of prominent scholarships have been political science students and majors.
She also encourages critical thinking, integrates current events and personal experiences and draws out her students' opinions in class discussion.
With that critical thinking comes an emphasis on writing. Bunck passes out copies of her practical student guide to writing papers, which covers grammatical issues and editorial tips. She still receives emails from former students who either still use the handy guidebook or want her to send them an updated copy to use on the job or advanced studies.
Several students mentioned that they continue to stay in touch with Bunck years after graduation and rely on her career counsel and encouragement. They also acknowledge that Bunck seemed to recognize in them potential they didn't see in themselves.
Bunck enjoys getting to know her students and helping match them with programs she thinks might fit with their education and future careers. That can involve tapping them to brainstorm about their next steps with discussions centering on suggestions such as "Have you thought about applying for this? Have you ever considered this?"
"I just put a lot of my time and energy into teaching and working with students," Bunck said. "Students just need so much attention, and they're all on the cusp of becoming great and you can't let them slip away.
"I'm so appreciative of these students."