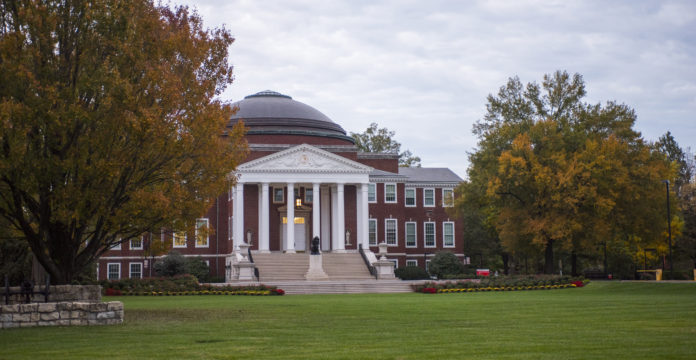 Faculty Senate met virtually on May 5 via Microsoft Teams. Senators received information about the restoration of retirement benefits, changes to flexible spending accounts and recommended changes to the policy on faculty accountability.
Executive Vice President and University Provost Lori Gonzalez informed senators of plans to restore employee retirement benefits. Retirement benefits were moved back to 2% at the beginning of the pandemic in 2020 and were recently raised to 6%. Gonzalez informed senators that retirement benefits are estimated to be returned to the original 7.5% by July 1, pending approval from the Board of Trustees.
Gonzalez also addressed plans for future health care costs stating, "the administration is committed to not passing any increases to health care costs. There will be no change in premiums for the second year in a row for employees at the university."
Both Gonzalez and Faculty Senate Chair David Schultz reported that the mass COVID-19 vaccination site at Cardinal Stadium will stop taking first-dose patients in the coming weeks. Gonzalez cited low patient turn out as one contributing factor of the upcoming closure. Schultz informed senators that alternative vaccination site locations will be available.
Senators were presented with the second readings of the revised bylaws for the School of Nursing and the J.B. Speed School of Engineering — both of which were approved unanimously. Two academic certificate proposals, a graduate certificate in Health Care Ethics and an undergraduate certificate in Ethics both through the College of Arts and Sciences, were also unanimously approved by the senate.
Mary Elizabeth Miles, vice president for Human Resources, informed senators on two changes to employee flexible spending accounts. After reaching out to those affected, the decision was made to increase dependent care FSA to $10,500. In addition, there will be a roll over for FSA from 2020 to 2021 and then 2021 to 2022.
"What that means for our employees is that if you had any money left in your dependent care or in your medical FSA at the end of 2020, it will now it roll over into 2021. Whatever you have left this year, you will be able to use that money for 2022 through Dec. 31," Miles stated.
Schultz later led a senate discussion on the proposed Faculty Accountability Policy, which was presented during last month's Faculty Senate Meeting. In December 2019, former Provost Beth Boehm charged a committee to make recommendations regarding expectations of faculty behavior and appropriate disciplinary actions. The proposed policy is intended to add consistency and equity in disciplinary actions across departments.
The policy was shared with senators during last month's meeting to allow time for feedback and suggestions. During the discussion, senators voiced concerns, suggested amendments and recommended changes to the proposed policy. The recommendations of the senate will be shared with the Office of the Executive Vice President and University Provost.
Committee reports and a video recording of the virtual meeting can be accessed on the Faculty Senate meetings webpage. The next Faculty Senate meeting is scheduled for June 2 via Microsoft Teams.