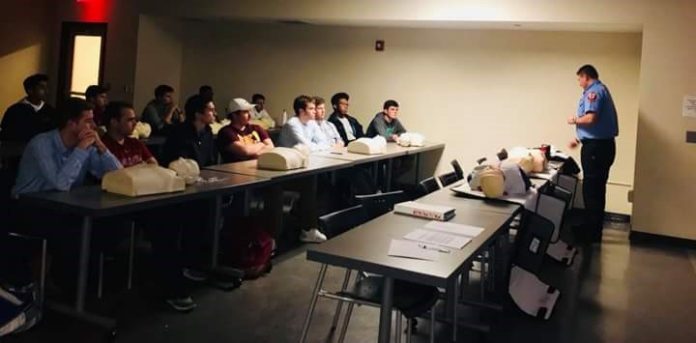 The brothers of Pi Kappa Alpha fraternity are now equipped with lifesaving skills thanks to a CPR course offered by Oldham County EMS personnel. 
The course was made available for the fraternity brothers as part of Pi Kappa Alpha's overall mission: "developing men of integrity, intellect and high moral character and to fostering a truly lifelong fraternal experience." Membership development chair, Alex McGrath, and chapter president, Alex Barnum, said it is important to provide their members valuable life skills such as CPR.
"We wanted to give the men life development skills that people should but don't have," McGrath said.
 "How better off can you be than to have 20 to 30 people in a room at any given time who have that (CPR training) capability?" Barnum added.
The CPR is just the tip of the iceberg of endeavors pursued by the fraternity. The Kappa Zeta Chapter of the Pi Kappa Alpha Fraternity, commonly known as Pike, joined UofL in 1995. Since then, Pike's members have regularly volunteered at Cochran Elementary, even creating the Cardinal Club, which provides in-school tutoring and mentorship.
Pike has also raised philanthropic awareness through events such as Spin for Steven and the Fireman Challenge.