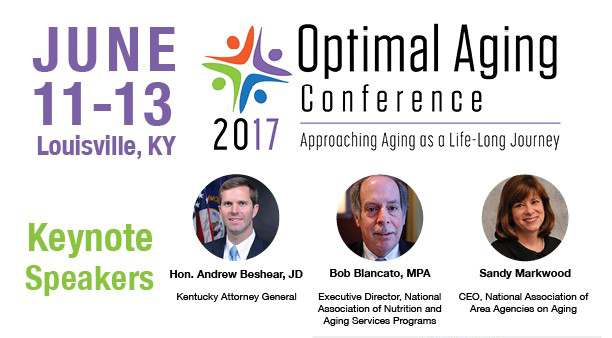 The 2017 Optimal Aging Conference, set for June 11-13, will bring together professionals, academics, older adults, community members and caregivers to explore new perspectives on aging.
The program aims to bridge the divide between research and practice by covering a comprehensive list of topics, including social services, therapy, elder law, social entrepreneurship, tech startups, music therapy, interior design, health care management, government, physical therapy, nursing, psychiatry, biological sciences, sociology and geriatric medicine.
The event will also include networking and professional growth opportunities.
Keynote speakers are:
Hon. Andrew Beshear, JD, Kentucky Attorney General
Bob Blancato, MPA, executive director of the National Association of Nutrition and Aging Services Programs
Sandy Markwood, CEO, National Association of Area Agencies on Aging
Irving B. Perlstein Gerontology Lectureship
Also serving as keynote speakers are Gregory Jicha, professor, UK Sanders-Brown Center on Aging, and Christopher Callahan, director, IU Center for Aging Research. They will deliver the Irving B. Perlstein Gerontology Lectureship. Their focus will be on Alzheimer's Disease. 
Dr. Perlstein was a member of the Medical Staff at Jewish Hospital during his career. He specialized in internal medicine and was recognized for his significant research on aging and thyroid dysfunction. He died in 1995 and this lectureship was created by his family as a living memorial to him and his commitment to his patients and healthcare. 
Additionally, former UofL and NBA basketball player Darrell Griffith, "Dr. Dunkenstein," will serve as the event's honorary chair and Optimal Aging catalyst during the event. Griffith will be introduced in the beginning of the conference.
Continuing education credit is available for a variety of professionals, including MDs, social workers, nurses and long-term care administrators.
The conference is June 11-13 at the Galt House Hotel on the Louisville waterfront. This conference is jointly hosted by the UofL Institute for Sustainable Health & Optimal Aging and the Kentucky Association for Gerontology (KAG).
For more information or to register, visit the 2017 Optimal Aging Conference website.