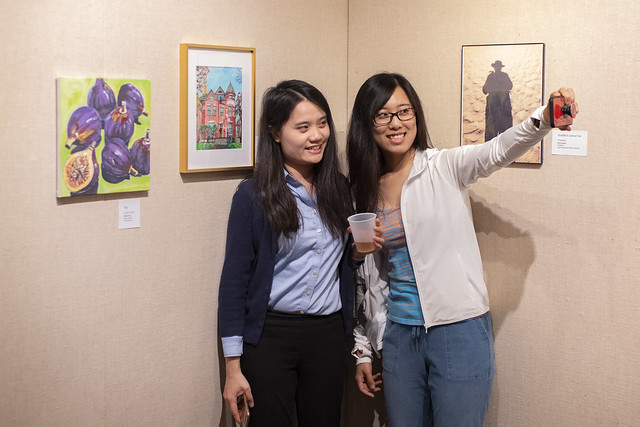 For the ninth consecutive year, the University of Louisville faculty has been given a unique opportunity to showcase their artistic talent.
The Open Walls Exhibit, hosted annually by the Office of Communications and Marketing and taking place in Ekstrom Library, features works of various mediums by employees of all backgrounds. From humanities to STEM fields, from classroom to cubicle, one thing remains constant: the artists' passion for their work, though it may not be their day job.
For this year's show, Development Officer Shauntrice Martin paid homage to a faculty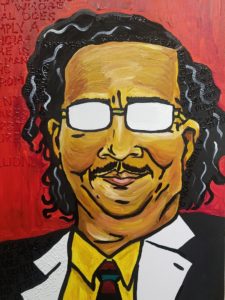 member who inspired her — Dr. Blaine Hudson, the late Dean of the College of Arts and Sciences.
"This exhibit meant so much because it is the first time my art has been displayed in a major gallery," said Martin. "It gives me hope that I can have my work featured at the Speed museum or even the Guggenheim one day. I am blessed to have known Dr. Hudson as he championed for so many meaningful milestones in the Black community."
Zhanna Goldentul, a professor and costume designer for the Department of Theatre Arts, displayed her breathtaking design renderings for costumes in the Louisville Ballet, Kentucky Opera and Louisville Opera collaborative production of Beyond, Project Faust.
"The demon characters wore hand-painted unitards, and their makeup was designed to complete the look," explained Goldentul, whose piece includes both costume and makeup design. "I had a small construction team to help me hand-paint unitards for 48 ballet dancers. Costume design is an important part of Scenography, the art that aids any production, no matter how intricate or simple it looks. Costumes and makeup help the audience to identify characters; it also helps the entire production to deliver the main theme of the show. This also is a very time consuming craft, which is not always given enough time."
The work of Martin and Goldentul is just a glimpse of the talent the Open Walls exhibit highlights. Exhibit goers can see for themselves by visiting the Photographic Archives Gallery, Archives & Special Collections, in the East Wing, Lower Level of Ekstrom Library. Hours are 10 a.m. to 5 p.m. The exhibit runs through June 27. 
Click here to see more photos from the opening reception.