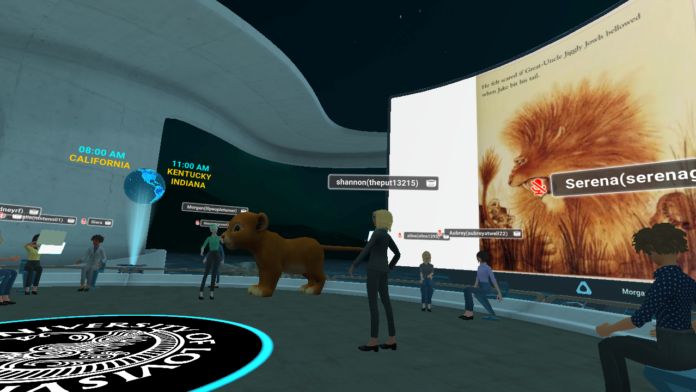 Those early days of the coronavirus in the middle of the spring semester were a quite challenge for an entity the size of UofL. Departments, schools and offices across all three campuses had to abruptly shift their operations – from teaching to research – entirely online.
It had never been done before at that scale.
Nevertheless, out of that challenge arose quite a bit of ingenuity. Consider John T. Finch's class in the College of Education and Human Development, for example. That class went beyond a 2D conference call experience when things went remote, and instead dove into the world of virtual reality.
Finch's 18 pre-professional students who took the "Introduction to Reading and Language Arts: Writing Methods" course in the spring met via a combination of virtual reality technology not yet available to the public and Blackboard Collaborate Ultra.
What this means, exactly, is that students in Finch's class joined via a Vive Focus Plus standalone virtual reality headset. Then, through that VR technology, students residing throughout Jefferson County and other adjacent counties could learn together in the same VR classroom. The classroom was designed specifically for this class by Vive.
The idea to go to a VR educational model came from Shannon Putnam, a PhD candidate and graduate assistant in the CEHD, who has been working with VR for over six years. Putnam was responsible for setting up the first VR elementary classroom back in 2017 at Cochran Elementary. That effort has since expanded to Portland Elementary and talks to implement the technology at another JCPS high school. In fact, her dissertation is concentrated on the use of virtual and mixed reality in education – perhaps a fortuitous focus area in a remote-only world incited by a pandemic with an uncertain end.
"Because of all the closures, multiple UofL students were not able to get that real-life experience of teaching a lesson with students. So, this VR opportunity was a fantastic way for them to be able to teach the lesson, get feedback and gain valuable experience that they would have otherwise been denied," Putnam said. "This is an incredible boon for UofL and JCPS. Together we are leading the nation in innovation."
Putnam said the technology they use is facilitated through a headset. Users simply put their headsets on, log in and join the class. There are no extra components besides the controllers, and it doesn't have to be connected through a computer or via a mobile phone.
"It is basically like a mini computer on your head. When you put the headset on, the virtual environment is 360 degrees around you and you are now in what is called an 'immersive virtual environment.' You can use the controllers to actually interact with your virtual environment conducting different activities such as throwing footballs, waving to friends, playing carnival games, even performing medical procedures," Putnam said.
Using the Sync platform, instructors have the option to choose from different locations, like clouds or the Golden Gate Bridge. For Finch's class, Vive created a UofL-specific room.
Because of the speed at which UofL shifted to remote learning, this project had to be implemented quickly, including Finch himself having to learn how teach in a virtual environment. The technology required a minimal learning curve, however.
"Dr. Finch is now 'a believer,' as I like to say, and decided he would hold more classes in VR," Putnam said.
As for his class, it included two different components. The first half, was Finch teaching like he normally would.
"Then the second half of the class was one of his students, Morgan Rhule, teaching a lesson just like she would have taught it in her third grade classroom," Putnam explained.
Putnam said one of the most unique features of VR is that it allows users to do things they can't do in the "real world." Rhule's lesson, for example, focused on five senses while reading a story about a lion. Whenever that lion roared in the book, a 3D, life-like lion appeared in the virtual space.
"For obvious reasons, you could never have a lion cub in a 3rd grade classroom. You could show a picture or video, but it wouldn't feel real. When Morgan was reading from the story in VR, a correctly-scaled, 3D lion appeared in the room, complete with animations and movements so students could physically see, feel and experience the lion," Putnam said. "This helps to create a memory and connection to the material, which we know is critical for sustained learning."
Putnam believes VR is a trend that will stick around long after the pandemic subsides. In fact, it's been around since the 1970s, but is now starting to reach critical mass because costs have come down and because more companies, like UPS and Walmart, are using VR for  things like employee training. COVID-19 has accelerated this trend as well, particularly in the medical field.
Putnam believes it's a "game changer" and hopes to continue a career researching where and how VR can provide the greatest impact. 
"Technology has changed our world, in some cases for the positive, and in other cases for the negative," Putnam said. "But if we as educators do not realize the power technology has, we are failing. Instead of trying to change the way our kids learn, we need to change the way we teach, and VR (whether people like it or even believe it) needs to be a critical component of that change."