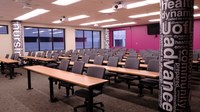 The School of Nursing has increased its capacity to educate more baccalaureate, advanced practice and research focused nurses through the renovation of two classrooms. A plaque in each room recognizes KentuckyOne Health for its $1 million contribution to the project.
The rooms allow for seating up to 100 people, and are equipped with the latest technology that can be used for opportunities like distance education and web-based continuing education presentations.
In real time, the school can easily connect to Owensboro, home of the BSN extension campus, and the KentuckyOne Health's twenty plus hospital system. Building the nursing workforce to create a healthier Kentucky is the goal.