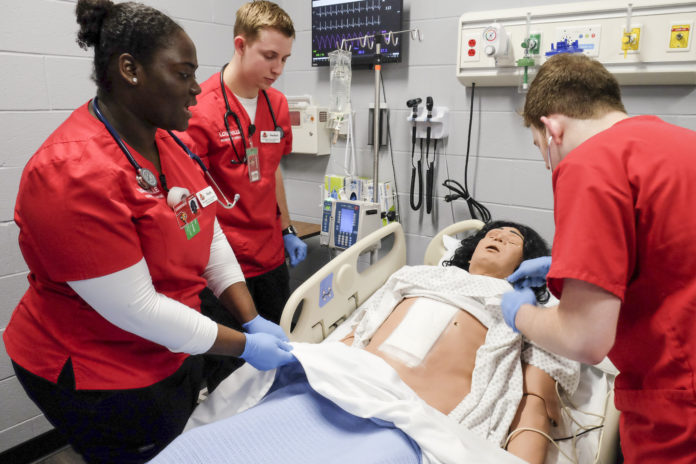 Renovation and upgrades of a simulation lab at the University of Louisville School of Nursing give students more opportunities for hands-on clinical learning. The school dedicated the lab today with Trilogy Health Services, LLC, and The Bufford Family Foundation. Trilogy Management Services, manager of Trilogy Health Services, and The Bufford Family Foundation jointly committed $250,000 for the project.
Leaders of the UofL School of Nursing and Trilogy Health Services also announced an agreement to offer priority admission for Trilogy employees to attend the traditional bachelor of science in nursing program. Beginning in fall 2020, the school will work toward accepting 25 qualified applicants per semester, up to 50 annually. Trilogy Health Services will provide scholarship support and part-time, flexible hours to its employees who meet requirements for admission to the UofL School of Nursing.
The agreement between UofL and Trilogy Health Services is an extension of Trilogy's recent $10-million work-based learning commitment to hire 200 Kentucky high school students into health care jobs as part of the Trilogy Scholar Program. The collaboration with UofL will create a pathway for these students to earn a four-year college degree.
"Community organization and foundation support are so important in our ability to prepare future health care providers, and we are pleased to be part of the visionary education pipeline of Trilogy Health Services," said UofL President Neeli Bendapudi, PhD.
"We understand the importance of fostering high quality nurses to care for and about our residents to support the delivery of excellent care in our community," said Barbara Dimercurio, Trilogy Health Services' Chief Nursing Officer. "High caliber training and education, such as what will be offered in the updated simulation lab, is key to developing these nurses. We are proud to partner with the University of Louisville to create a clear pathway for Trilogy Scholars to become nurses."
Simulation Lab Transformation
Funding from The Bufford Family Foundation and Trilogy Health Services allowed for a lab on the third floor of the nursing school to be transformed into a four-room simulation suite and home health care space. In addition to doubling the number of simulation rooms, the renovations created a separate observation room for instructors. 
"Like UofL, we believe that when we invest in our community's youth, we invest in our future," said Susan Bufford. "That is why The Bufford Family Foundation is so passionate about supporting new technologies and resources for UofL students. We are honored to partner with UofL to grow the future leaders of the health care industry."
The school also plans to purchase a fourth high-fidelity adult patient simulator. Prior to the lab upgrades, the school was restricted to using only two of its three adult mannequin simulators because of space constraints. The renovated lab allows for continuous use of all four adult simulators.
"On-campus patient simulation labs are essential to educating health care students," said UofL School of Nursing Dean Sonya R. Hardin, PhD, MBA/MHA, APRN, NP-C, FAAN. "Simulators present numerous conditions that students respond to, including difficulty in breathing, seizures and heart attacks. Our students develop clinical judgment and learn how to respond in complex clinical situations."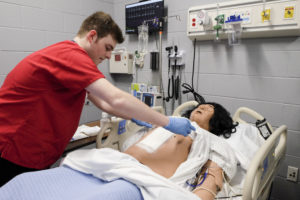 Cody Swift will graduate in May 2020 and says the simulation lab has helped him become more comfortable taking care of patients.
"This lab has given me the opportunity to not only build technical skills but also has helped me learn to better communicate with patients. We are blessed to have this simulation lab," he said.
Check out video from the dedication ceremony: