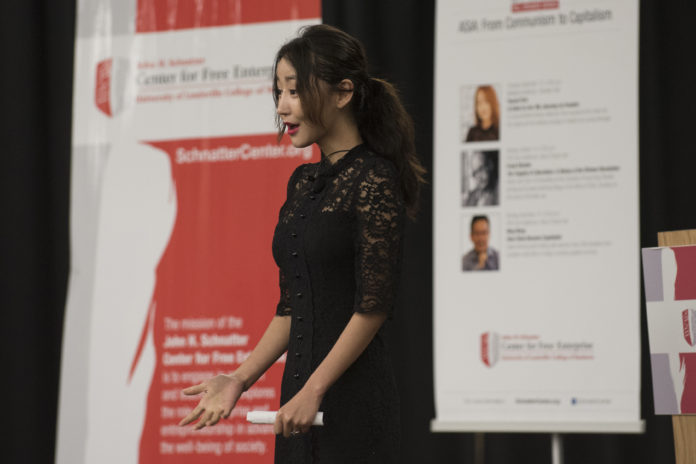 Yeonmi Park, a 22-year-old Columbia University student who is one of the few people to survive fleeing North Korea, received a standing ovation at the University of Louisville after giving a moving talk describing her escape.
When she crossed a river into China with her mother at the age of 13, what she was most afraid of was being forgotten. "If I didn't survive … you wouldn't know I existed in this world," she told the hushed, standing-room-only audience in Strickler Hall's Middleton Auditorium on Thursday.
"They have feelings. They have dreams," Park said of the North Korean people, her soft voice breaking.
Park's talk was the first of the 2016 Fall Speakers Series for the John H. Schnatter Center for Free Enterprise in UofL's College of Business. She later signed copies of her book, "In Order to Live: My Journey to Freedom."
Now an economics major at Columbia, Park said she learned about supply and demand from buying and selling on the black market in North Korea. Asked what she wants to do when she graduates, she laughed and said she first has to pass pre-calculus, but that she hopes to someday earn an MBA or PhD.
Park spoke candidly about being sold into sexual slavery in China, her value being higher than her mother's because at the time Park "was young and a virgin."
She also talked of learning about simple things, such as going into a restroom – itself a novelty – and discovering scented toilet paper decorated with flowers: She was so surprised she tucked some away in her pocket.
Electricity, scarce in North Korea, was a luxury: Living near the border with China, she would wonder why China had lights at night and North Korea was dark. She did not know how many countries were in the world, and learned mathematics by doing math problems that counted the number of "American bastards" or "Japanese imperialists" killed by North Koreans.
Her introduction to the United States came from repeatedly watching "Friends" reruns in South Korea. Inspired to go to New York City, she was accepted to Columbia, where she then wrote her book. She now studies and travels the country giving talks to spread the word about the human rights atrocities taking place in North Korea.
"It's happening right now," she said. "What have you done for us?"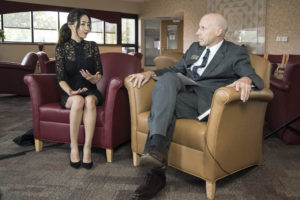 The Schnatter Center Fall Speaker Series, "Asia: From Communism to Capitalism," will continue Oct. 10 with author Frank Dikotter, who will discuss the Chinese Revolution. On Nov. 14, author Nin Wang will discuss "How China Became Capitalist." Both talks are at 4:30 p.m. in the PNC Horn Auditorium in the college's Harry Frazier Hall. Find out more at Schnattercenter.org.