Family and friends from across the country and around the world gathered at the Louisville Palace Aug. 27 to show their support for the UofL School of Dentistry's newest dental and dental hygiene students. The 2022 White Coat Ceremony honored members of the DMD class of 2026, Dental Hygiene class of 2024, and Advanced Standing class of 2024.
Program emcee Dr. Michael Metz, chair of the ULSD's Department of Comprehensive Dentistry, opened the event by explaining the significance of the white coat in health care professions. He called on students to "wear your white coats with pride today and every day with understanding of all that it signifies to our profession: integrity, compassion and professionalism."
Kelsey Francisco, a dental hygiene student, echoed that statement, saying, "It is an honor to get the white coat. I feel really inspired coming into the dentistry profession."
Her dental hygiene classmate, Anab Ahmed, said putting on the white coat also represented a personal achievement.
"I've wanted to be a hygienist since high school. I feel like I'm dreaming," Ahmed said. 
DMD student Talia Kalter said she has also looked forward to this moment for a long time. "I've wanted to be a dentist since I was about 8, so it's really incredible," she said.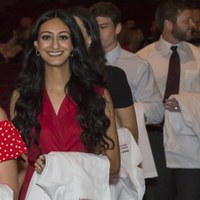 Jack Speelman, who was accepted to the DMD class of 2026 during high school through UofL's Early Admission to Dentistry (ULEAD) Program, said the event also represents the beginning of a new journey: "Over the next four years, I'm looking forward to meeting all of my classmates and learning a lot more about dentistry."
In addition to donning their white coats during the event, students recited a pledge accepting responsibility to patients, the profession and the community. Representing the Louisville chapter of the American Student Dental Association, Brianna Gill (ULSD DMD class of 2024) led students in the pledge.
Guest speakers included Dr. Terry Norris, representing the Kentucky Section of the American College of Dentists, and Drake Coomer (ULSD DMD class of 2023), representing the Student Professionalism and Ethics Association.
Coomer advised students to rely on each other and their faculty, while remembering that the goal is not just to graduate, but to develop the clinical, ethical and personal principles that will guide their professional lives.
"You are here for a reason," he said. "The school chose you to come join us in our mission to achieve higher standards for our patients and our profession." 
About the DMD class of 2026
Admission to the University of Louisville DMD program is highly competitive, with only 120 seats available for each class and more than 10 times that number of applications in a typical year. Academic averages for the class of 2026 are 3.59 overall GPA and 3.46 biology-chemistry-physics GPA. The average Dental Admissions Test score is 20.
In addition to being exceptional academically, the class of 2026 is diverse – with 13% of students coming from historically underrepresented racial/ethnic groups in dentistry. They also come from a wide range of geographic areas, representing 69 colleges and universities across the United States.
Students in the DMD class of 2026 come to ULSD from:
22 states: Alabama, Arizona, California, Florida, Georgia, Illinois, Indiana, Iowa, Kansas, Kentucky, Louisiana, Maryland, Michigan, Mississippi, New Jersey, North Carolina, Ohio, Pennsylvania, Tennessee, Texas, Utah and Virginia
13 countries of birth: Canada, China, Cuba, Egypt, Ghana, Honduras, India, Iran, Iraq, Pakistan, Russia, Syria, United States (including seven students holding dual citizenship in the United States and another country)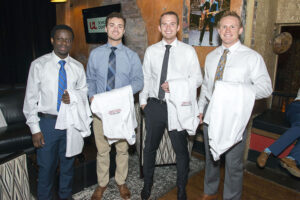 About the Advanced Standing class of 2024
ULSD's Advanced Standing admission option into the DMD program is designed for selected individuals who have received a dental degree from an institution outside the United States or Canada. ULSD does not admit advanced standing students every year, as the program is depending on space available in the D2 class. This year's White Coat ceremony honored two internationally-trained dentists who joined ULSD in January 2022 and will graduate with the DMD class of 2024: Dr. Robertha Jones and Dr. Jhanvia Patel.
About the Dental Hygiene class of 2024
ULSD's Dental Hygiene program accepts 30 students per year. Members of the class of 2024 have previously completed lower division requirements and gained acceptance into the upper division.
More photos from the ceremony are available online here.