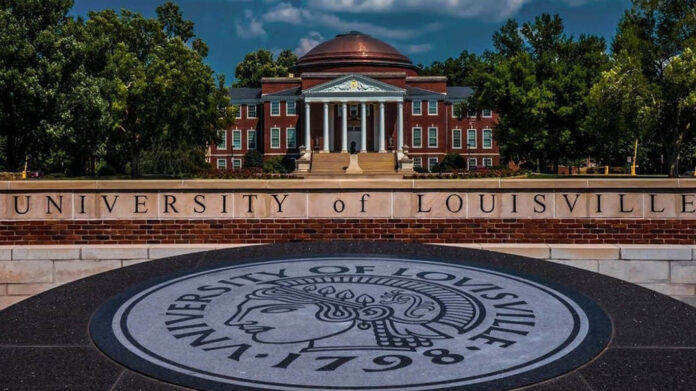 February 1 was a busy day for the University of Louisville's new president, Kim Schatzel. Her first-day meetings, stops around campus and other events included time with the Faculty Senate at its monthly meeting. Her spot on the senate's agenda was her first of several listening sessions with faculty, staff, students and other constituencies throughout the months of February and March.
"Shared governance is a critical part of the University of Louisville's success," said Schatzel. "I want to assure you that I am deeply committed to considering the opinions of this group as we make decisions about the future of our university."
Fostering a culture of success for students is among her priorities. Doing so, according to Schatzel, takes a "high-tech and high-touch" approach – one that considers data analysis, student advising, accessibility to classes and services, peer-to-peer tutoring and other factors. As she considers that and other initiatives, Schatzel said she will "listen widely" to make the most informed decisions.
See the president's webpage for more information about President Schatzel and to register for an upcoming listening session.
ACTION ITEMS
Unanimous approval was given for the creation of an undergraduate certificate in sales. The program will consist of four three-credit hour courses, which are currently offered at the university's College of Business. According to Ryan Quinn, chair of the Department of Management and Entrepreneurship, a professional certification in sales is a relevant credential among all academic disciplines and vocations. The program initially will be available to College of Business students and eventually will be open to students from across the university as the program grows.
Approval was also given to the creation of the Center for Positive Leadership. According to Quinn, the center's efforts in research and leadership development are already part of the College of Business' Project on Positive Leadership. Quinn said establishing the center adds legitimacy to the project's efforts; provides a location through which donations can be solicited; provides formal status within the university; and positions the center and the university as global leaders on the topic of positive leadership.
The Faculty Senate unanimously approved a proclamation which recognizes the excellent work Provost Lori Stewart Gonzalez did while she served as the university's interim president.
OTHER BUSINESS
Mindy Christian, manager of UofL's Emergency Management Program, urged senators to familiarize themselves with the emergency management and preparedness plans as well as the other information and resources available on the program's website. She also asked senators to help direct occupants in their buildings to the website, so campus safety remains front-of-mind for the university community.