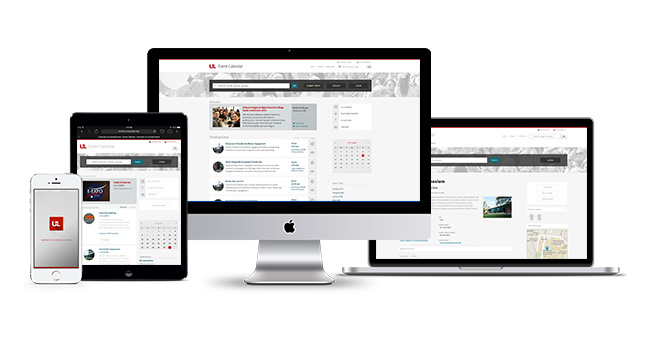 The calendar, now live at http://events.louisville.edu, features images, directions to events, links to social media and more. It replaces a calendar that has served campus since 2002.
The Office of Communications and Marketing is inviting campus units to submit items for the new calendar and is offering training on how to use it, said John Drees, director of campus communication.
"We've needed a comprehensive, user-friendly calendar for a long time," Drees said. "This calendar will help faculty, staff and students get a better feel for everything taking place on campus. It also will display for the larger community the array of events happening here, which we hope will bring more people to campus."
The calendar offers tie-ins to Facebook and other social media. A photo or graphic will appear with each event, and users will be able to browse events by type, department or organization for the first time.
Users who sign up to attend events will get email reminders ahead of time and will have the option of leaving feedback about ones they've attended.
Units who post to the calendar will have the ability to push their events out to other calendars and will be able to develop calendar widgets customized to their needs. For example, a department could submit their items to the full calendar and then develop a widget to list only their department's events on their site.
The calendar also will serve an emergency communication function, providing the Department of Environmental Health and Safety and the UofL Police Department a comprehensive quick view of out-of-the classroom events happening in case of emergencies.
Student Affairs soon will phase out its existing Google calendar and begin posting events on the new UofL calendar. Student events submitted through OrgSync are already being imported into the new calendar.
Users can log into the calendar using an existing university user ID and password. Once there, they can add a profile photo and customize the calendar to show the kind of events they want to follow.
Those who want to add events can click on a "Submit an Event" box that leads to a series of straightforward prompts asking for the place, date, time and other details about the event.
"The process is very user-friendly," Drees said.
During the next two weeks, Communications and Marketing will offer training on how to use the new calendar during sessions on the Belknap and Health Sciences campuses. To register for a training session, click below.
1-2 p.m. Feb. 19, Ekstrom Library, W102, Belknap
1-2 p.m. Feb. 21, K Building, Room K4007, HSC
4-5 p.m. Feb. 24, Ekstrom Library, Room W104, Belknap
11 a.m. –noon Feb. 25, Ekstrom Library, W104, Belknap
For additional information, go to http://louisville.edu/calendars/event-calendar/about.
For more details on the new calendar, contact Brandy Warren at brandy.warren@louisville.edu or 502-852-6171.