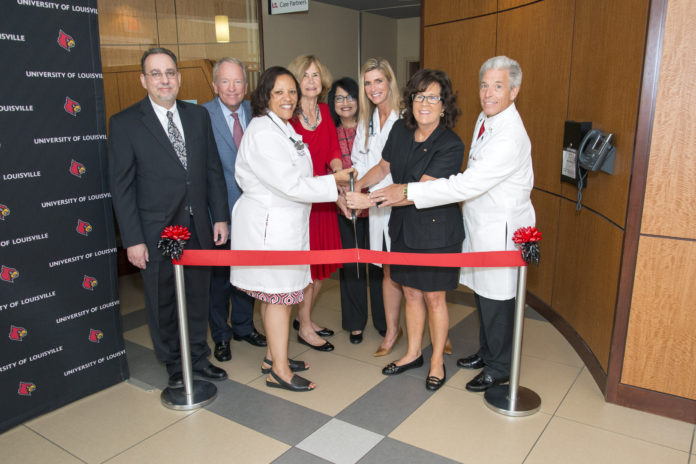 Breaking down barriers to care while offering better patient service are reasons the University of Louisville Schools of Dentistry and Nursing have launched UofL Care Partners, a new clinical service at the dental school.
"Here at UofL we are working to create solutions," said UofL President Neeli Bendapudi. "In our health care landscape where there are too few primary care providers to meet demand, UofL Care Partners offers our dental patients an in-house clinical service solution."
"UofL is among just a handful of higher education institutions in the United States implementing a dental-nursing collaborative care model clinic, we are proud to be among them," said T. Gerard Bradley, BDS, MS, Dr.Med.Dent., dean, UofL School of Dentistry.
UofL Care Partners will help create a continuity of care for patients, says Marcia J. Hern, EdD, CNS, RN, dean, UofL School of Nursing.
"The solid future of effective health care will rely on inter-professional teams that best serve the public," she said.
UofL Care Partners hopes to serve as an urgent care style clinic for patients who need help with issues such as blood pressure or diabetes management.
"Without management of these type of health issues, patients run the risk of delaying or foregoing their dental treatment," said Tim Daugherty, D.M.D., associate dean of clinical affairs, School of Dentistry. "If a person went under local anesthetic for a dental procedure and had uncontrolled diabetes, their insulin levels could drop leading to life-threatening problems."
In 2017, the School of Dentistry wrote nearly 940 medical consults for patients who needed to follow-up with a provider before progressing through their dental treatment. Almost 40-percent of these patients failed to complete the follow-up required for their oral health treatment.
The clinic is an individual room located on the first floor within the patient waiting area. Dental patients, along with others including faculty and staff or community members can make an appointment with UofL Care Partners' part-time nurse practitioner. In addition to offering chronic disease management, patients can have basic lab work completed or be seen for an acute illness. A nurse practitioner also will work with patients to connect them with a primary care provided or specialist, if needed.
UofL Care Partners is an outgrowth of an existing relationship between the Schools of Dentistry and Nursing who jointly received a $1.1 million grant from the U.S. Department of Health & Human Services Health Resources and Services Administration (HRSA) in 2012. The grant supported an educational initiative for nursing and dental students to enhance communication between the professions and develop best practices in patient assessment, consultation and management to improve overall health of patients.
Additionally, DMD students learn from a nurse practitioner who instructs them on completing medical history forms required for all new dental patients as part of the admission process. Dental students also learn how to evaluate whether a patient is healthy enough to complete an exam and subsequent treatment.
"This initiative is a creative demonstration of how nurse practitioners are meeting the needs of patients where they are, and builds on best practices and success at the School of Nursing's other clinical operation, the Kentucky Racing Health Service Center," said Whitney Nash, PhD, APRN, FAANP, associate dean of practice and service, UofL School of Nursing. 
Check out video from today's ribbon cutting ceremony below. Photos are available here.