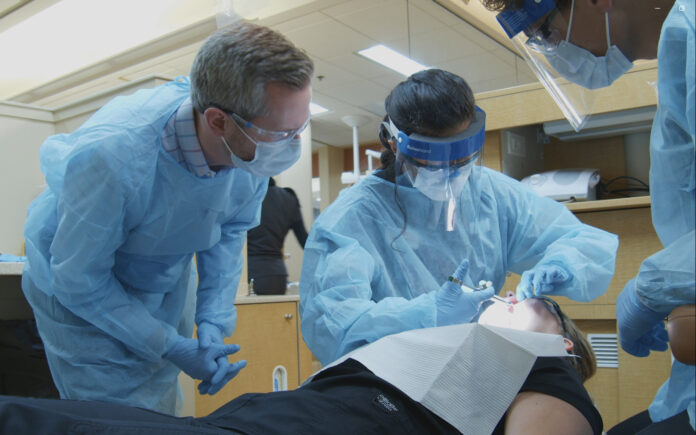 Employment in the health care industry is booming, with an expected growth of 2.6 million jobs from 2020 to 2030 according to the U.S. Bureau of Labor Statistics. The curriculum within UofL's new online Master of Science in Health Professions Education (MSHPE) degree will meet this need by equipping educators with the skills and expertise to be highly effective health professions educators.
Launched through a partnership between UofL's College of Education and Human Development and School of Medicine, the MSHPE degree is designed for health care professionals who teach or plan to teach in their respective discipline—medicine, nursing, dentistry, pharmacy or other health fields.
"The goal of the MSHPE program is to magnify the impact of the health professions educator. Not only do health professions educators improve the outcomes of their patients, but they significantly improve the educational outcomes of their practitioner learners and impact the patients that those learners ultimately care for in the future," said Staci Saner, program director and assistant professor of medicine. 
Additionally, many accrediting bodies are moving toward requesting background knowledge in teaching and learning for health professions educators. This degree will provide this necessary credential.
An article in the journal Medical Teacher found that graduate programs in HPE—including certificate and degree programs—are viewed by many as a key strategy to contribute to a health professional's conversion from competent clinician to academic leader. Additionally, the Journal of Graduate Medical Education reported that accreditation bodies increasingly require that residency leaders have the requisite specialty expertise and documented educational and administrative experience. "With this explicit requirement, and with the need to maintain an educational environment conducive to educating the residents in graduate health care education competencies, institutions recognize the value of employing leaders who possess advanced training in education to maintain and improve their residency programs," the report found.
UofL Assistant Professor of Comprehensive Dentistry Wil Abshier has completed the program. "I recommend this program to anyone who simply wants to be a better educator for their students," Abshier said. "So many people in HPE are clinicians at heart but have no formal education in teaching. This bridges that gap.
By Chris Dye, College of Education and Human Development