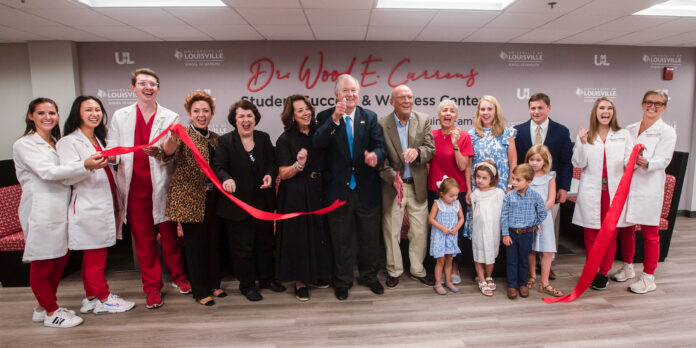 A former bioengineering and biomaterials lab in the lower level of the School of Dentistry has been transformed into a new lounge area and study space for students.
Dental student Deepa Sree Gadde says the Dr. Wood E. Currens Student Success & Wellness Center is much-needed.
"This space enhances student success because it's an easy spot to meet up if there is a group project to get done," Gadde said. "With the school's 24/7 access, this will make it easier for students to know there is a space open for them."
In fact, students from the School of Dentistry helped design the space. It features several small study rooms as well as larger gathering areas. A television, refrigerators and microwaves provide amenities for students to socialize and eat.
"This is truly a student-inspired project to create more livable learning spaces in the school for students, and we are thankful to our donors who have made this happen," said Gerry Bradley, dean of the UofL School of Dentistry.
The project was made possible by a gift from 1974 School of Dentistry graduate Bob McGuinn and his family, including his daughter, Leslie McGuinn Davis, who earned a DMD degree from UofL in 2007.
"UofL provided education in dentistry to my daughter and myself, and we are so grateful for that education and the careers we have had," McGuinn said.
The McGuinn family chose to name the student success center in honor of Wood E. Currens. After graduating from the school in 1967, Currens served in many roles during his 44-year career at UofL, including department chair, associate dean and acting dean. 
"The name of the center honors the lasting relationships Dr. Currens made to so many alumni who stay connected to the school because of his influence on their careers," Bradley said.
The Louisville chapter of the American Student Dental Association also contributed to the project and was heavily involved in planning.
View the photo gallery from the July 23 ribbon-cutting ceremony.