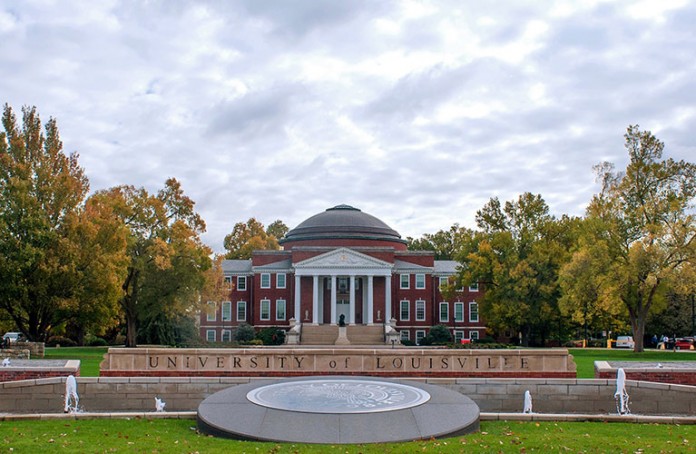 UofL's Staff Senate met Monday after an August hiatus, with Vice Chair Vickie Tencer presiding. Dr. Dale Billingsley, interim provost, provided an extensive report on a number of issues, including the budget.
The first quarter report will be presented to the Board of Trustees in October and Billingsley said we have experienced about $4 million per month of growth since the budget process began earlier this year. Positions will remain unfilled until more goals are met, however some exceptions have been made for positions that pertain to patient care and other needs.
"The objective is to reduce spending," he said.
There have been 89 RIFs reported at UofL since the budget crisis was announced and this includes all positions – full-time, part-time, people on grants, etc. Billingsley said this number is not different than "normal" (non-budget crisis) years. He said many of those jobs won't come back.
"One of the issues our university has had for a long time is the management of our funds hasn't been great. This experience should teach us how to better manage our expense and revenue," he said. "We want to be more strategic and focused. How we do fiscally has to do with what SACS thinks of our university."
SACS will visit UofL next week to determine our current probation status. A decision will be made in December. Billingsley said President Greg Postel is confident we're in a good position before next week's visit.
John Elliott, interim AVP of HR
Elliott introduced himself and provided some of his background information to the Staff Senate. He has been in the interim AVP for HR role for six weeks, replacing Jeanell Hughes who left for another opportunity. Elliott outlined his observations and objectives so far, including:
Trying to get to know the HR team and making the department more efficient and service-oriented.
Reviewing and revising the HR policies by Nov. 1. Elliott said many of these haven't been updated since 1992.
Elliott said they are looking at the RIF policy/procedures and he is looking at changing some of the content; for example increasing the minimum time an employee was informed of a RIF to their last day from 30 to 60 days.
Open enrollment is Oct. 16-27 and employees should be looking for more information via UofL Today soon.
There have been four RFP processes recently, for COBRA, Life, LTD and flex spending and those will be announced soon.
Elliott said about 750 employees are affected by the one-year transition for waiver credit and that amount will be rolled into their paychecks throughout the course of 2018.
Regarding the FSLA policy that was put into place earlier this year, Elliott said right now he can't say if this work will be reversed to coincide with the Trump Administration's reversal of the policy. "Until there are new federal guidelines, we have to be in a holding pattern," he said.
HR is currently undergoing a search for director of Benefits and is down to a few finalists.
Elliott said he can't answer whether or not the hiring freeze will be lifted in October, as has been a rumor.
Elliott ended his report by outlining his short-term goals, which include preparing for the SACS HR interview, finalizing policies and hiring a director of Benefits. He also took some questions, many of which addressed low morale among employees who are working to fill holes left from recent RIFS. He thanked senators for providing that feedback and said he will be mindful of this environment.
Lee Smith, interim COO
Smith discussed a recent change that was made in the HR self-service direct deposit feature. He said because there have been so many issues around phishing, UofL had to adopt a more sophisticated system and has taken direct deposit offline for now. HR self-service will either by done by mobile app, text or call until IT can implement a multifactor authentication process.
Smith also suggested that all senators visit the SAC to see the construction progress and updated dining options.
The university is required to submit a 6-year capital plan to the state covering what projects we plan to pursue. Smith said UofL has identified 87 projects worth more than $1 billion of work. His team is working on finalizing this plan now.
They are also working on an updated safety report. Smith said crime numbers are steady from years past, but there have been more vehicle thefts, which reflects a broader, citywide trend.
Smith provided an update on where we are with our savings goals. The $10 million operations savings goal is now around $4.5 million, and the $10 million procurement savings goal is now around "several million," though some of these savings intersect.
Finally, Smith encouraged senators to acknowledge Physical Plant employees for their work beautifying campus in preparation for Saturday's ESPN GameDay set.
Faculty Senate report
Avery Kolers provided a Faculty Senate report, including work on a statement in support of DACA. He said UofL has 80 DACA students enrolled. He also said there is concern about our nepotism and tenure policies, both of which are currently being analyzed.
President Postel spoke to the Faculty Senate and said he was optimistic about the SACS visit next week. He also provided updates on our donor community and our budget, stating that UofL finished the fiscal year more than $20 million ahead this year and the donor community is "starting to warm up to us again."
Postel will host panel forums in October to provide the university community with more updates.
Other items/reports
Vice Chair Tencer said that the two Staff Senate listening sessions held in August were well attended.
The Credentials and Nominations committee named new senators and committee members and also held one at-large election for a VPHA seat, which went to Donna Hardesty.
The Policies and Economic Development committee presented its finalized hiring policy to the executive committee and it has now moved onto HR for review.
The Services and Facilities committee announced that its list of objectives has been completed.
The Staff Grievance committee has scheduled training sessions and announced the new ombudsman, Mindy Eaves, named earlier this month.
SHARE introduced new committee members and acknowledged the EVPRI office for donating $500 to its account.
The Staff Morale and Community Outreach committee introduced a new webpage, with more and updated content. It also includes a senator profile template. The Staff Senate is also working to increase employee profiles with the Office of Communication and Marketing to help improve engagement and morale, and has added Facebook and Twitter accounts. The website is available here. 
The Staff Senate is partnering with the Alumni Association to host the Cardinal Day of Service Oct. 6 and 7 and more information about this is available online. 
According to the Treasurer's Report, the Staff Senate has $23,543 in its general account for the fiscal year, as well as just over $15,000 in the SHARE account and $1,674 in the technology account.
The next Staff Senate meeting is Oct. 9 in CTRB Room 100 on the HSC campus.