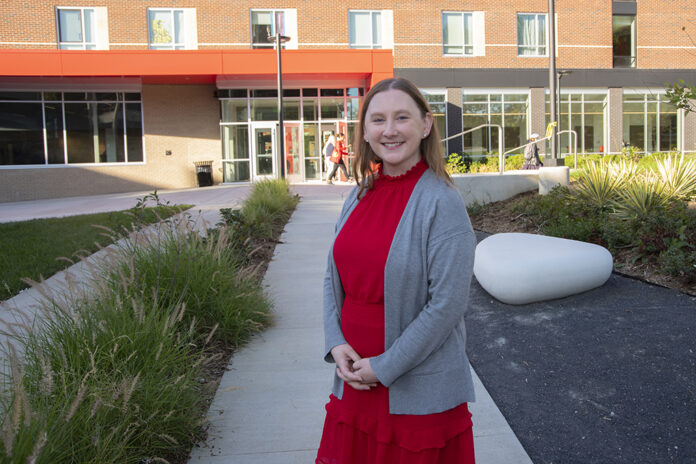 This fall, the University of Louisville is celebrating a housing milestone as close to 4,000 students moved into UofL's residence halls, an all-time high. 
In preparation for this influx, the department that was once Housing and Residence Life changed its name to University Housing and the Resident Experience (UHRE) to better reflect its modern mission.  
Enter Tina Belcher, who on Aug. 1 started her job as UofL's first Director for the Resident Experience.  
The Irvine, Kentucky, native and Eastern Kentucky University double graduate is passionate about students and their well-being. She trained to be a nurse to care for patients but switched her focus to caring for students when she realized from personal experience how important it is for them to have on-campus support and guidance during their college years. She has two degrees from EKU: a bachelor's in psychology and a master's in student personnel services in higher education.  
Belcher started her own college career commuting to EKU from her parents' farm. But when a friend was looking for a roommate on campus and invited Belcher to join her, she moved into her first EKU residence hall. Though Belcher didn't know it would at the time, that move to campus housing changed her career trajectory.  
"I did start off as a nursing major and I was a resident assistant at the same time. I realized I loved doing this. I love being a role model for others. I've seen the impact that housing can have on someone's experience," she said. 
Belcher, who began her career in a similar role at Mississippi State, came to UofL as the transformation of Belknap Campus took final shape this fall when New Residence Hall  officially opened. NRH and its neighboring twin that opened in 2021, Belknap Residence Hall, replaced two outdated halls in Miller and Threlkeld halls. Together, they accommodate about 900 students, mostly first-years, in modern, spacious settings meant to feel like home while contributing to their success. 
The new halls sit on either side of the Swain Student Activities Center. Their proximity to the Red Barn, Ekstrom Library, the Interfaith Center, classroom buildings and the tree-lined Quad mean residents are immersed daily in UofL's vibrant student life.
In addition, the new Denny Crum Hall on South Floyd Street, also opened this fall.  
Belcher said she understands the importance of her new role at UofL, "and I don't take that lightly." 
"To me, the role is the overall leadership of making sure the students have a good experience. I feel responsible for that," she said.  
"This position was created to have someone devoted to the entire resident experience, that 70% outside the classroom, and mainly in the residence halls, the average student spends at UofL to ensure it is productive and worthwhile to their growth and learning," said Thomas W. Hardy, executive director of UHRE. "Tina has immediately started making a positive impact on our campus and most important with our students who reside on campus in areas of connectedness, promoting resources at UofL that lead to retention, and serving on the student care team to ensure those in crisis get the assistance needed." 
Belcher said she sees her role as dynamic: On any day, she could be providing customer service, helping with academics, or ensuring someone has extra emotional support.  
"It's at a crucial time in their life … coming to college and living alone, away from their family and what they have known their whole life. I'm hoping at the end of the day, their experience in housing leads to their success in the classroom and overall leads to graduation after four years." 
Belcher said that while common issues like roommate conflicts ("how to navigate someone new in your space") have been around for decades, students today have an added wrinkle: social media. 
"Technology obviously is a great thing, but it definitely can bring some unique challenges as well that we have to navigate," Belcher said. "But hopefully we're learning to also meet students where they are with that technology. … We hear students just need to get off their phone … which is a little bit true. But I also think it's a little bit of, 'that might not happen so how can we incorporate that technology to meet them where they are?' I think that's something that is a unique challenge."  
Belcher finds herself in at least one of UofL's 12 residence halls every day. She might meet with the staff that she supervises or just chat with students. Her favorite spots on campus so far are the Quad, which she called an "oasis," and the Red Barn, which she said is "just a unique and iconic building." 
She lives in St. Matthews with her two 7-year-old cats, Boo and Sullie.