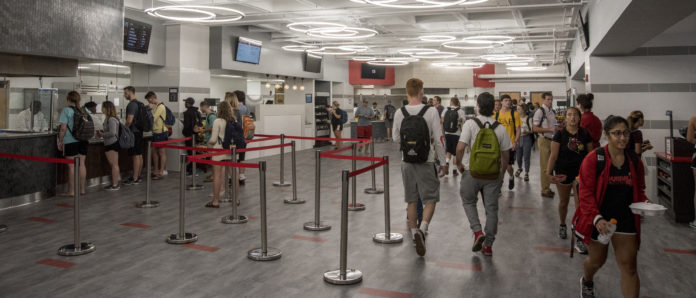 When Austin Correll, a senior political science major, came back to campus for the fall, he was pleased to see new dining options in the Student Activities Center.
Just a week into the new semester and he has already spent some time sampling the new menus including Olilo, which serves Mediterranean cuisine.
"It was awesome to walk in the SAC the first day and finally have all these options. Everything was delicious," Correll said. "Olilo was my favorite, it was super unique and affordable."
The new dining options are just part of the Student Activity Center renovation project, which is now at the halfway point.
With a project budget of more than $39 million, this is the SAC's first major renovation since it's creation in 1990. The renovations began June 2016 and the final phase is expected to be completed by summer 2018.
"This comes from looking at student needs and campus development over time, part of this renovation is to keep up with that development and complement the student experience," said Tim Moore, director of student activities and the Student Activities Center. "This will make a much more dynamic campus experience."
Some of the new dining options include:
A newly-renovated Wendy's
A full-service Starbucks on the Floyd Street side of the SAC
The Marketplace, a hub of new dining venues including: Olilo Mediterranean Cuisine, Prime Grill, Southern Traditions, Aqua Sushi by Drakes, and The Exchange, a rotating restaurant concept which will feature a changing menu
Some features still under construction include:
The full-service Chick-Fil-A next to the MarketPlace, which should be completed and open on Aug. 28
The addition to the plaza on the west side
Work on the existing Multipurpose room
"We are going to be able to meet so many different needs for the student community and larger campus community with this renovation," said Moore. "This project creates an environment to foster the educational excellence we want at UofL."
More information about the SAC renovation is available online.