This Veterans Day, the University of Louisville is honoring those who serve, who did serve and others with military connections at UofL by highlighting a newly renovated space that opened this semester to better meet the needs of the more than 2,100 military-connected students enrolled at UofL.
The new offices of the Center for Military-Connected Students in Brodschi Hall on Belknap Campus were renovated using $600,000 in state funds. The center had strong bipartisan support from the Kentucky Legislature and Gov. Andy Beshear.
"This renovation marks the achievement of a long-term goal of creating a dedicated and welcoming space to serve these students, who make up 9% of UofL's student population," said Kim Schatzel, president of UofL. "I want to thank Gov. Andy Beshear, state Rep. Kevin Bratcher and the rest of the legislature for providing the funding to enable this project. But even while we celebrate this achievement, we remain committed to continually improving how we serve this important population."
The center was formed in 2022 by merging the Office of Military and Veteran Student Services (formerly part of Undergraduate Admissions) and the university's Fort Knox campus (formerly part of the College of Education and Human Development).
Its goal is to improve UofL's ability to address the academic, financial, physical, and social needs of students who are active-duty service members, in the National Guard and the Reserves, are veterans or dependents or who are Army Reserve Officer Training Corps or Air Force Reserve Officer Training Corps cadets.
The Center's staff have more than 100 years of combined experience serving military-connected students at UofL, including Kristen Roy with more than 40 years, and Mary Ann Campbell with 30 years.
Directed by U.S. Air Force veteran Kyle Hurwitz, the center was cited as a factor in UofL earning the 2023 "Gold" designation from Military Friendly. Of the more than 1,800 participating institutions, UofL was among one of only 33 Carnegie Designated Tier 1 Research institutions in the nation to earn this designation. This recognition highlights the institution's "commitment, effort and success in creating sustainable and meaningful benefits for the military community."
"Through the center and this new space, the university will increase military-connected student persistence and success rates, as well as enhance their higher education experience through innovation, accessibility, connection and appreciation," Hurwitz said. "We hope it will be the national model for empowering and supporting military-connected student success."
The three-level center includes multiple study spaces, a lounge and meeting space, kitchenette, a wellness room, and ADA-compliant restrooms with a shower, as well as offices for five full-time staff members. There is also flexible office space for support staff from student services areas across UofL to assist military-connected students from the center.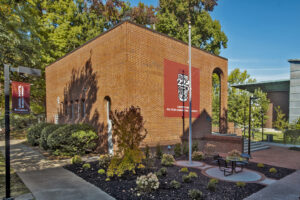 Outside, there is a 20-foot flagpole flying the American flag and a Prisoner of War/Missing in Action flag, and an ADA-compliant picnic table.
Among the center's key functions include identifying and tracking military-connected students, policy advocacy, advising use of and processing Department of Veterans Affairs (VA) education benefits, and Military Tuition Assistance processing and residency coding.
It also performs undergraduate admissions actions for currently serving members, veterans and dependents using VA education benefits, and advocacy and assistance for graduate admissions.
The center administers the Salute to Service veteran and dependent scholarship, through which four veteran or dependent students are awarded $1,500 scholarships in the fall and spring terms, and two veteran or dependent students are awarded $1,500 scholarships in the summer term.
In collaboration with the University Career Center and the Office of Adult Learning, the center administers "Red Bird" training for faculty and staff who wish to learn more about the military connected student experience. This training creates allies who know about the issues and concerns, unique perspectives, strengths, and challenges of military-connected students. These trained individuals then assist our military-connected student population and serve as resources to other faculty, staff or students who have questions about military-connected student issues. To date, more than 110 faculty and staff members have completed the training.
The unit was behind the creation of the Veteran and Military Alumni award, awarded in 2023 for the first-time to Michael Kaelin. Kaelin played football and received his degree in 1972 from the University of Louisville. He later served in the United States Marine Corps, and then the United States Army Reserve as a Criminal Investigation Division agent. Kaelin then enjoyed a lengthy career in the insurance business and serves as president of the Employee Benefits Division for R.H. Clarkson Insurance Group in Louisville.
"It has been a busy first year-plus, but we are very excited about operating out of this special new space," said Hurwitz. Military-connected students have quickly taken to the space and expressed enthusiasm for the great new facility.