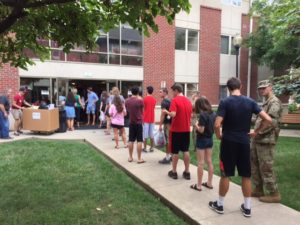 Despite the persistent rain last week, nothing could dampen the spirits of thousands of Cardinals as they lugged boxes, bags and furniture into the dorms they'd be calling home for the next nine months.
Freshman McKena Alford sheltered from the drizzle outside University Tower, waiting for her parents to arrive and help her move a cart full of her belongings inside. Coming from a family of UofL fans, she had always expected to attend the university one day. That day had finally arrived, bringing with it a lot of emotions.
"I cried this morning because my bedroom was empty," said Alford. "But I'm excited to start the whole UofL experience."
Alford's story is a familiar one, shared by her classmates and countless Cards before her. But this year, many students will be experiencing campus living as no Card has before, thanks to a slew of upgrades the university has made.
"We're excited to have our residents back on campus and especially excited to add University Pointe and The Nine to the University Housing inventory. The addition of these two facilities, along with our existing buildings, allows us to offer housing to over 7,000 UofL students," said Director of Campus Housing Julie Weber. "We are also pleased to offer a new home to the Honors Living-Learning Community, which is now housed in Kurz Hall, and to have added a new Living-Learning Community in Threlkeld: the Arts & Sciences Exploring Majors and Careers."
At the revamped Kurz Hall, Resident Assistant Megan O'Brien was on hand last week during Move-In Day to help students get settled in their new dorms. Having served as an RA there last year as well, O'Brien looked forward to the changes the new arrangement will bring.
"In an LLC, students who live together likely take the same classes, fulfill the same requirements, and have the same scholarships," explained O'Brien. "It really gives them the urge to form a community." 
Sophomore Kate Jackimowicz stood in her University Pointe apartment surrounded by boxes of her belongings. Unlike most students, she couldn't rely on the help of her parents to move in — they were 14 hours away at the family's home in Boston. But luckily for her, University Pointe provided Student Living Assistants to move her things and help her feel at home, which she expects to be significantly easier this year.
"I lived in Unitas last year, so this is a major step up," said Jackimowicz. "Living here will definitely help my grades because I do better when I can lock myself in my room and have my own area."
As the rain cleared and rooms were put in order, students headed off to enjoy the Welcome Week activities that mark the beginning of yet another new school year.